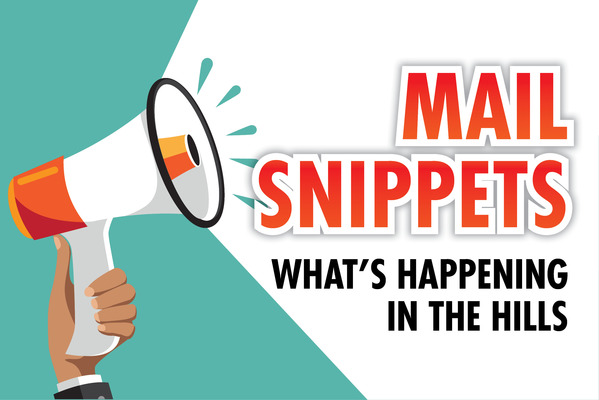 Rise of the under-myna
The Indian Myna is an introduced species that poses a threat to native animals and biodiversity.
Yarra Ranges Council is holding an informative session at the Sherbrooke Family and Childrens Centre on 30 May which will give residents information on the bird's behaviour, why they're a problem in the Yarra Ranges and what residents can do to keep them away from their garden.
Peter Wiltshire will be the keynote speaker.
RSVPs are essential. Visit yrc.vic.gov.au/indian-myna.
Another event will be held in Lilydale at 2pm on the same day.
VoKallista turns 10
On 17 May, the VoKallista Community Choir is celebrating 10 years at the Tecoma Uniting Church with a celebratory night from 6pm to 9pm.
The event will consist of eating, singing and a few musical games.
Guests can bring their own dinner and snacks.
Tickets are $5 per person at the door and funds go to Dandenong Ranges Emergency Relief Service (DRERS).
Honeyeater birthday
On Saturday 25 May the Friends of the Helmeted Honeyeater are celebrating 30 years of working to secure the future of the critically-endangered helmeted honeyeater.
From just 50 birds in the wild five years ago to more than 200 birds today, a symposium is being held from 8.30am to 4.30pm in the Lilydale Senior Citizens Centre, 7 Hardy Street Lilydale and will include keynote speakers Zoos Victoria CEO Dr Jenny Gray and Dr Sally Box, federal threatened species commissioner.
Everyone is welcome. Bookings are necessary through trybooking.com/BAYKA.
Pelvic health and exercise
Women's and men's health physiotherapist Jen Vardy from Dandenong Ranges Physio is presenting Pelvic Health and Exercise – a free and informal session on pelvic floor exercises, common misconceptions and continence – on Monday 20 May at 1.30pm in the Mount Evelyn Community House.
Registrations are essential by calling Dandenong Ranges Physio on 9751 0400 or emailing info@drphysio.com.au.
Hills Ukulele Festival
The Hills Ukulele Festival brings all things ukulele to Emerald Primary School on 18 and 19 May.
Workshops, concerts, markets and community groups – all in one place at the same time.
These ukulele workshops cover beginner, intermediate and advanced playing.
Attendees are welcome to show off their new skills at the gala concert along with the featured artists who run the workshops.
Music council
The Dandenong Ranges Music Council will present its annual Youth Music Awards Concert on Sunday 19 May at 2pm at Upwey High School.
Entrants and prize winners will perform, followed by a presentation of prizes and afternoon tea.
Tickets are available at the door and children aged under 10 years enter free.