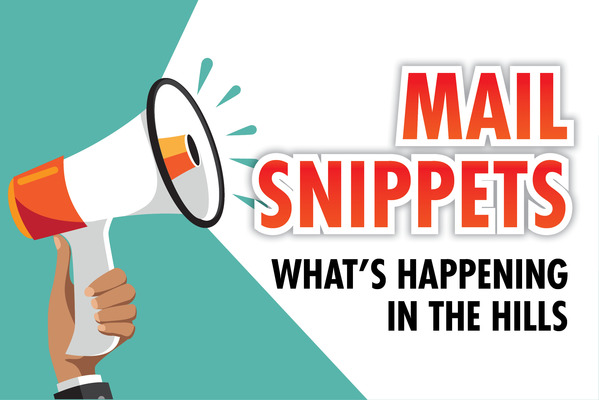 Wildlife in your own garden
There's a new way that hills residents can fill their gardens with birds, lizards, frogs and butterflies. Yarra Ranges Council is getting behind the Gardens for Wildlife initiative, whereby enthusiastic local volunteers will visit participants and advise on how best to attract wildlife to their gardens. Selby Community House will be hosting an information night and presentation in which residents can learn more. A slideshow will showcase some of the success locals have had in populating their gardens, and there will be ample opportunities to ask questions. A light supper will round out the evening. The event will start at 7pm on Monday 2 September, with a gold coin requested to cover the supper. Inquiries: 9754 2039.
Planning in Emerald
Concerns have been raised about the type and nature of buildings that have and could be approved for Emerald. Two planning officers from the Shire of Cardinia, Peter Benezac and Debbie Tyson, will attend the next Emerald Village Association meeting on Tuesday 27 August at 7.30pm at the Emerald RSL. All are welcome.
Upwey Country Music Club
The Upwey Country Music Club is presenting its next walk-up open mic concert on Sunday 1 September at the Guides Hall in Underwood Road, Ferntree Gully, from 12.15pm to 5pm. Artists perform songs in the country, bluegrass and folk genres. New singers, musicians and bands are always welcome. There's an entrance fee of $7 ($5 for members) and the club runs regular concerts on the first Sunday of each month. Inquiries: Graham 5964 8298.
Trees and weeds swap
Cardinia Shire Council and the Friends of Emerald Lake Park are hosting a Trees for Weeds Swap at Emerald Library on Saturday 7 September from 10am to 2pm. Cardinia residents will be able to trade a bag of weeds for a free local indigenous plant at no cost. Attendees can ask the experts for help to identify weed species and learn ways to control weeds on their properties. Visit www.cardinia.vic.gov.au/events/event/814/trees_for_weeds_swap_event for more information.