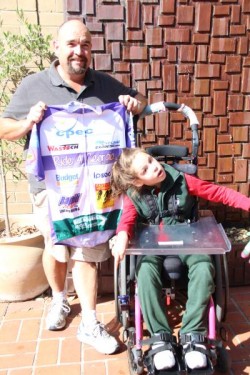 By REBECCA BILLS
FERNTREE GULLY resident Chris Waixel and a team of 36 riders is on a mission to raise $20,000 for a beautiful girl.
Georgia Mackie is nine years old and suffers from severe Sensory Integration Dysfunction as well as Cerebral Palsy and Epilepsy.
For the last four years, Mr Waixel has grown a team from just eight riders to three teams of eight in the Ride4Georgia Murray to Moyne Cycle Relay – a 24-hour, 520km team cycle event to raise money for charities.
"The teams are hoping to raise money to fund Georgia's ongoing therapy and modifications to the family car," he said.
"I met Georgia's dad Ken five years ago and he explained to me what happened to Georgia and I wanted to do something to help him and his family."
Since mid-2012, Georgia has been dual schooling, two days in her mainstream primary school and three days at a specialised school for physically disabled.
Georgia's mother Sue Mackie said she would hate to think where they would be without the support of Mr Waixel.
"Prior to the money each year from the ride, it was hours upon hours of sending out applications for money and getting knocked back quite often," she said.
"It would leave you wondering how you are going to get the equipment for her and working out what we had to compromise on to get it.
"It's an enormous relief for us and it's just taken the pressure off us as Chris is willing to do most of the leg work and get the ride running."
Mr Waixel said unfortunately when you put the word disability at the end of anything, the Government or the company puts $5000 on the price.
"There is enough pressure on a family with a disabled child without the extra pressure of making them come up with $30,000 or $40,000 every year to get the child around," he said.
"We raise money for Georgia particularly for her therapies and ongoing support – she has something called second skins which are nearly $3000 just for a suite that she can stand up-right in.
"Watching the change in Georgia since we first started the ride and how far she has come is just amazing."
Mr Waixel said over the four years the ride has been running they have raised nearly $50,000.
"Last year we raised $18,000 and we are looking to raise $20,000 this year," he said.
"A little thing we can do each year, ride a bike 540kms, and the money that it has raised has advanced her so much, it's just fantastic.
"It never ceases to amaze me the generosity of people with a lot of people that ride for us and support us meeting Georgia through me. The biggest thing we all get from it is knowing we have made a difference in a little girl's life."
The Ride4Georgia will be held on 5 and 6 April.
To find out more on the ride and make a tax deductable donation for Georgia, visit www.murraytomoyne.com.au/donate.php.