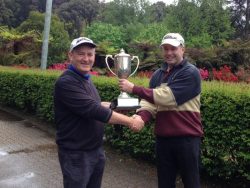 By Dennis Fuller
EMERALD GOLF
THE last round of the three-round club championship was held at Emerald Golf Club in what one local wag referred as trying conditions.
It was trying to be wet and it was trying to be sunny with the firmer holding sway.
It was noted that three ducks on the twelfth green and upon more serious questioning it was agreed that they were swimming, not walking.
When the bedraggled played the last hole, it was announced that the new Club Champion was Peter Glasscock (13).
He was steady in the last round and held his nerve to par the 18th for a meritorious win. He finished with a gross 248.
He was chased home by a previous champion in Ross Martin (14) who started the last round a couple in front but he could not withstand Glasscock's surge when he finished with 252.
The B Grade championship was also a close affair over the three rounds but it was the tenacious Allan Ecclestone (24) who greeted the judges with a gross total of 282 to head Ben Balfour (21) off by a couple of shots on 284.
The overall handicap winner was Ken Hill (16) who hung tough for the three rounds for a gutsy with win a nett total of 208.
He finished just one shot ahead of the two stroke winners in Glasscock and Ecclestone when they both came in with 209.
On Wednesday when the Obviously Fierce Golfers (OFG) rolled it was a par event which became a pairs comp.
After play the pairs were drawn out which caused much mirth when other players got the members who bombed on the day.
Ben Balfour and Ken Sumsion had +2 each to win with +4.
Next were John Keys +5 had Geoff Whittaker's -4 to drag the score down to +1.
Following them were Philip Crossley -3 and Leigh Morison +2 for -1 and the rest languished somewhere back in the distance as losers.