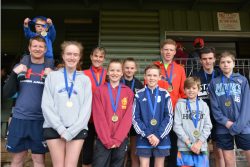 MONBULK CRICKET CLUB
THE Monbulk Fun Run for 2016 has been run and won for another year.
Many thanks to all those who ran or walked, and/or who supported and volunteered their time to make this community day a success.
The Monbulk Cricket Club hosted this popular event.
Special thanks to the Monbulk Bendigo Bank for their ongoing support, as well as Monbulk Rotary for their big breakfast and the new market stalls.
This year, funds raised went to Monbulk Rotary Club Community Support Account (for those affected by loss or tragedy) and MADCOW, which supports community projects.
Winners included: James Laven (8km winner), Dana Dekkers (8km winner), Ben Grimes (U18 8km winner), Holly Blake (Under 18 8km winner), Ollie Grujic (4km winner), Susie Wilson (4km winner), Zac Clarke (Under 18 4km winner), Indi Linde (Under 18 4km winner), Dylan Madeley (special effort for running 8km), Judd and Brock Mason (1st Pram).
Unfortunately, all junior and senior cricket was washed out this weekend.
Next week, there is no junior or lower grade senior cricket due to Melbourne Cup weekend.
The firsts and seconds play a double-header Twenty20 versus Upwey at home on Saturday at Monbulk.
The seconds start at 12.30pm, which will be followed by the firsts at 4pm.
It would be great to see all other juniors and seniors (and families) in their Monbulk Hawks gear supporting those playing.
The weekend after that sees the whole club in action with the start of the Milo in2Cricket program and the first games for the Under 11s and two Under 10 teams.