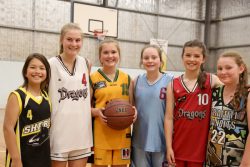 THE Sherbrooke Basketball Association (SABA) is expanding in 2017, with a new under 14s Girls competition.
The development will complement the existing under 14s mixed competition, providing young basketball enthusiasts with multiple playing options.
The new competition is open to girls who are yet to turn 14 before 31 July, 2017.
Sherbrooke president Mick Spruhan said the new girls competition was an important step in the ongoing development of the organisation.
"The association has a focus on community involvement, skills development and professionalism, and this opportunity for younger girls is an important step," he said.
The new girls competition will begin in February and will be structured to welcome any new players, as well as existing SABA members.
Initially, the teams will be formed from a pool of interested players, which will ensure a competitive balance and welcoming culture for newcomers.
Meanwhile, for older girls, there are numerous under 16s girls teams, keen to draw new players.
In the younger age groups, there is strong mixed competition with Aussie Hoops (5-10 years), under 10s and under 12s.
Senior competitions are available, too.
Association secretary Pamela Ball said basketball was an exceptional team sport and continued to gain popularity.
In addition, locally the sport will benefit from development of new facilities and more courts and Upwey, which is due to commence this year.
Presently, SABA uses venues at Monbulk, Upwey and Cockatoo.
For anyone interested, contact competition co-ordinator James Farish-Carradice on 0437 436 012 or Pamela Ball on 0401 996 046.