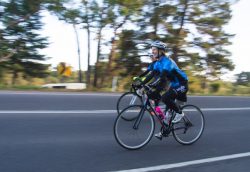 By Peter Douglas
The brakes have been applied to The Ascent women's only cycling event, which last year controversially required road closures around the Dandenong Ranges.
Due to insufficient fund-raising support and a failure to meet a target of 1500 riders, the Bicycle Network-operated event will not run on 23 April, 2017, just one year after the inaugural ride.
Last year, the event was held on Saturday, 17 April, taking in 100km of challenging roads, with many nearby retailers and residents expressing frustrations.
Concerns over the road closures included a lack of consultation and safety worries.
The event aims to get more women riding in Australia, with statistics saying only one in three bike riders are women.
The 'Mail' has attempted to contact the Bicycle Network, but organisers failed to respond.
However, on their website, organisers thanked those who had shown their support for the ride.
"Bicycle Network would like to extend a huge and heartfelt thank you to the 624 people who supported The Ascent crowdfunding campaign," the message read.
"Despite a huge effort from the team and our supporters, we fell short of our 1500-rider target and fund-raising goal.
"Sadly, this means that The Ascent women-only ride in the Yarra Ranges will not go ahead."
At this stage, it's unclear whether organisers will attempt to revive the event next year.
Though, the message did suggest a return could be possible.
"While it's devastating that we won't have the chance to provide the opportunity to experience the sense of community, fun and support that The Ascent ride offers, it's not the end of The Ascent or our commitment to get more women riding," the message read.