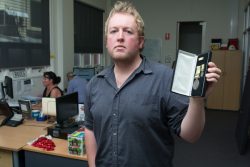 By Jesse Graham
When February 7, 2009, came around, firefighters and emergency services crews around the state jumped into action, defending towns, properties and lives against a fire that grew to 450,000 hectares.
For former Mail journalist and former Gembrook firefighter Russell Bennett, he spent the day "on the end of a hose", helping his brigade defend power lines from the Bunyip fire, which started in the state park.
At the age of 22, Mr Bennett had been a member of the brigade for about six years, signing up with friends who had family connections to the CFA.
In what would undoubtedly be the case for many of our firies, Mr Bennett said the day of Black Saturday was a blur, and details of when he started and finished his shifts are hard to pin down.
"Because it was a strike-team situation, I can't tell you right now what day or night it was – if I had my watch on me, I wasn't looking at it," he said.
He said his team was working with Department of Sustainability and Environment (now Department of Environment, Land, Water and Planning) crews who had been containing a deliberately-lit fire from earlier days.
On the morning of 7 February, the fire broke containment lines.
"Our main thing that we had to do was stop the fire from reaching the power lines – they're the main power lines into the city, they still are," Mr Bennett said.
"What happens, obviously when a fire reaches power lines is like anything – it burns – but if the smoke reaches power lines and it's thick enough, it can short the power out.
"So there was a real worry that, on a day like that, the city would be out of power and you can just imagine if that'd happened."
Mr Bennett, who is now a sports journalist for the Mail's parent company, Star News Group, said the enormity of the day did not become clear until his shift was over and news from around the state filtered in.
"When you're on a truck, you don't really have perspective of the wider scene," he said.
"This whole thing is speaking from my perspective, but I had no clue what was happening out this way … I had no clue what was happening in Kinglake or Marysville – I probably found out about it on the news.
"Even though you're in the CFA, we had a job to do, like any person on any truck, and you're focused on that."
Though Mr Bennett said he had attended car crashes through his firefighting work, including those involving people he knew, the fire his brigade was fighting on Black Saturday did not result in any deaths.
However, the Bunyip fire destroyed 31 properties and burned more than 24,000 hectares before it was stopped on 9 February.
The next year, Mr Bennett joined the team at the Mail. In 2012, he finished up with the CFA.
In the years after the fires, Mr Bennett and his fellow firefighters received National Emergency Medals, featuring the Australian green and gold colours, and emblazoned with a wattle plant.
Speaking to the Mail, he said the Gembrook brigade received their medals in a ceremony in Berwick, which he described as "massively humbling".
On Tuesday, 7 February, Mr Bennett said he stopped for a moment to contemplate the fires and the eighth anniversary.
In a social media post, he summed up the sentiment felt by many in the Yarra Ranges and surrounds: "That was a day I witnessed first hand the best of the human spirit. To the 173 people who lot their lives – you'll never be forgotten".