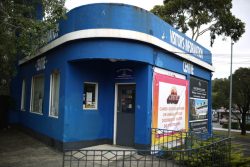 By Peter Douglas
Upper Ferntree Gully's Visitor Information Centre is one of two in the region set to close its doors, after Yarra Ranges Tourism announced the decision on Wednesday 8 March.
Following a detailed review of the ongoing viability of the centres, Yarra Ranges Tourism Chief Executive Officer, Simon O'Callaghan, said a significant decline in the number of visitor inquiries had driven the decision to cease operations at Upper Ferntree Gully and Healesville.
Ultimately, the growth in online booking channels has weighed heavily in the role of the tourism model, with websites such as Airbnb.com.au and Booking.com dominating the market.
Yarra Ranges Tourism CEO, Simon O'Callaghan, said tourists were increasingly likely to use such sites to access information and accommodation booking for tourism operators.
Local tourism operator Ralph Henderson of Yarra Gables Motel, a director on the Yarra Ranges Tourism board, said he had seen first-hand the impact large online travel agents were having on tourism in the region.
"60 per cent of our bookings now come through online channels," Mr Henderson said.
"The visitor appetite for well-serviced online information is simply a reality that the tourism industry and its operators have to embrace to remain in business."
Mr O'Callaghan said the Yarra Ranges Tourism's visitor websites – www.visityarravalley.com.au and www.visitdandenongranges.com.au now receive more than 206 million annual page visits, which has seen growth of 89 per cent in the past 12 months.
"We are also able to reach more than 2.3 million visitors annually through our social media channels," he said.
The study also showed the centres were becoming increasingly costly to run and no longer represented a sustainable use of the government and industry funding.
He said the centres in Healesville and Upper Ferntree Gully had seen a steady decline over the past few years, in both inbound calls and walk-in visitors.
"The two centres combined received inquiries from less than 0.01 per cent of the six million visitors that come to our region each year," he said.
"In 2016, around 23,400 tourists visited the centres, down 33 per cent from three years ago."
Mr O'Callaghan said Yarra Ranges Tourism was keen to support the centres' volunteers to find new ways of contributing to their community.
He added Yarra Ranges Tourism leased the building from VicTrack and was in the process of working out what would happen with the site.