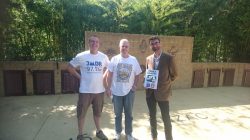 For this Anzac Day, Upwey-Belgrave RSL has teamed up with 3MDR and Yarra Ranges Life TV have formed a local partnership to provide coverage of the mid-morning services.
While 3MDR (97.1FM) will broadcast the event live, Yarra Ranges Life will stream the event from its Facebook page at 6am and 10am.
The initiative is aimed at connecting local residents, who may not be able to attend, to these services.
3MDR President Pierre Rispoli said this type of connectivity was important to the community.
"We see this as an integral part of our role as community radio broadcasters," he said.
"It's really important to 3MDR that we create opportunities for our local residents to actively engage with the station and the wider community around them."
Meanwhile, the Upwey-Belgrave RSL would like to invite everyone to attend the ceremonies at the RSL (1 Mast Gully Road, Upwey).