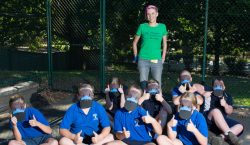 Yarra Ranges students are learning more about the natural environment and Australia's native wildlife, thanks to the Platypus Education Group.
The Education Group, which is funded through Yarra Ranges Council's Community Development Grants, visited Gladysdale Primary School on Thursday 9 March.
Council's Environmental Volunteers Support Officer, Jen Ellison, said the group worked with students in Grades 3-6, teaching them about the animal and its habits, and how human behaviour such as littering could affect it.
"We mostly focus on litter, specifically elastic bands and plastic rings, because they get discarded quite easily," Ms Ellison said.
"They wash down the stormwater drains, into the creeks, and they get entangled around platypus.
"So, they can strangle them or they can just get caught on their legs, which can lead to infection and death as well."
The group uses games and photos in their events to help get the anti-littering message across.
Ms Ellison said the Education Group also asked students to collect as many elastic bands and plastic rings as possible over the month, cutting them to ensure they didn't harm any wildlife.
Each of the 15 schools the group will visit this year will participate, and a poster will be made for the school that collects the most bands and rings.
For more information on how you can help the platypus, visit the Platypus Education Group's Facebook page.