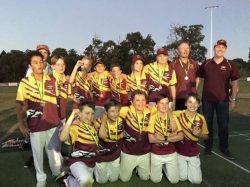 MONBULK CRICKET
The Monbulk Under 12s topped off a great finish to the season for the Hawks, winning the premiership on Friday night after their fourth XI won the premiership last weekend.
Congratulations to coaches Thomas Badgery and Simon Davis, team manager Steve McDonald and all the players for becoming Under 12s premiers in season 2016/17.
They narrowly defeated Ferntree Gully in the semi-final but this had nothing on the grand final.
The Under 12s defeated a strong Upwey-Tecoma team in the grand final in what was one of the most exciting matches for all present.
Halfway through the split innings match, Monbulk were 3/71 – slightly behind Upwey-Tecoma on 4/80.
Batting first on the second night, Upwey-Tecoma made it to 9/139 from their 40 overs.
Monbulk's fielding was a real highlight, saving many runs in the field.
All the boys and girls bowled well with Camden McLean and Alex McDonald both taking two wickets.
Needing 69 runs to win, Monbulk chipped away at the total.
Isaac Hylton Stewart (19 not out) and Camden Mclean (12 not out) batted well at the top of the order, both retiring after their 30 balls.
A great partnership between Matt Abraham (14) and Tom Donald (13) got the Hawks close, leaving Olivia Davis and Isaac who had come back in, to get four runs off the last over.
Some great saves in the field by Upwey meant Monbulk, nine out, needed one run to win off the last ball.
The ball went through to the keeper, and Olivia and Isaac managed to scramble through for a single to win a dramatic grand final in front of a huge crowd at Monbulk.
Congratulations to both teams on an amazing match and to Monbulk Under 12s for winning the club's first junior premiership for 10 years.
Upcoming dates:
FTGDCA Junior Presentation Night: Thursday 23 March, 6.15pm, FTGCC for all rep players, Under 12s premiership players and coaches, and the two competition bowling winners;
Giant Plant Sale – Saturday 25 March, 8am onwards, Monbulk Recreation Reserve – all proceeds for new pavilion;
Senior Presentation Night: Saturday 25 March, 6.30pm at Watering Hole Tavern, $25 pp;
Junior Presentation Afternoon: Sunday 26 March, 3.30pm start at the Logcabin. Please bring a salad to share.