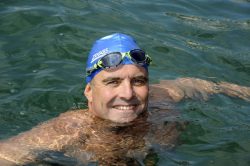 By Peter Douglas
Selby marathon swimmer Paul Hoffman's bid to swim the equivalent of two English Channels has ended in heartbreak.
Just five hours into his swim, a 60-kilometre solo swim from Eastern Beech in Geelong to the Brighton Baths, Hoffman succumbed to a shoulder injury.
This swim had been the second attempt at the challenge for Hoffman, who, during last year's try, tore a bicep tendon around the same mark as this bid.
That setback required an operation, six months of physiotherapy and six months of training to get back to full fitness.
Before his latest attempt, Hoffman said he was eager to conquer the swim.
"This time it's very personal," he said.
"This is unfinished business for me.
"I don't like leaving things unaccomplished."
The experienced marathon swimmer had been aiming to raise $10,000 for the East Timor Hearts Fund, which would have been around 50 per cent of the cost of heart surgery for a patient.
If Paul had been successful, it would have been only the second time anyone had swum from Geelong to Melbourne.
While it's unknown if Hoffman will make a play for a third attempt, he is still encouraging people to donate to the charity.
Supporters can donate to East Timor Hearts Fund and leave messages of support via Everyday Hero at www.giveeverydayhero.com/au/baths2bathsswimmending-broken-hearts.