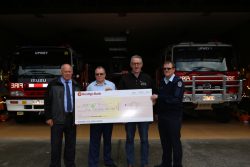 By Derek Schlennstedt
A century is a long time by any standards, and the Upwey CFA is nearing the milestone.
Only a year away, the Upwey CFA is close to 100 years of service to the community, making it the oldest fire brigade in the Dandenong Ranges.
Celebration plans are already underway for the centenary, which is to be held in February next year.
On 28 April 2017, Upwey CFA received a $5000 grant from the local community Upwey Bendigo bank to help with the celebration and the production of a historical book.
The book will include historical accounts of fires that took place in the region, and what the fire station was like 100 years ago.
Chairman of the Dandenong Ranges community banking branch John Waters said the community bank hoped to help the CFA in their preparation for their celebrations.
"The community bank represents the community, and there is not much better way to represent the community than with this donation, as we realise how important the CFA are to the town, and they've been here for 100 years which is incredible," Mr Waters said.
Local historian John Waterhouse will help write the commemorative centenary book.
Peter Marke, long-serving member of the Upwey CFA and Sponsorship Chair, said the fire station had gone under considerable changes since he started.
"We used to use hand beaters and knapsacks to beat the fires with," he said.
These days, the station has five trucks, three of which are community paid for, through fund-raising.
Plans to celebrate the centenary include a reception on 24 February 2018, a procession in conjunction with the annual billy car race festival on 25 February 2018, and an 'open house' fire station.