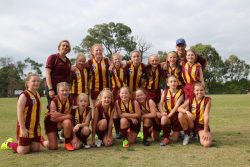 MONBULK JUNIOR FOOTBALL
Season 2017 has started for the Monbulk Junior Football Club with some age groups having multiple entries and the creation of an Under 12s Girls team.
Round 1 saw all teams taking the field in good spirits and competitively with the majority playing against Olinda on a sunny Sunday.
Under 12 Girls were at Belgrave but lost against a more settled and refined team in Belgrave.
This week, Round 2 saw Monbulk Junior Football Club hosting Woori Yallock at home and due to the sheer number of teams being fielded this year by Monbulk, two of the teams – Under 12s Girls and Under 14s Maroons – took to the field at Silvan Football Ground.
It was a day of mixed success but ended on a high with the Under 16s scoring a win and a great family atmosphere of the club's first meal night.