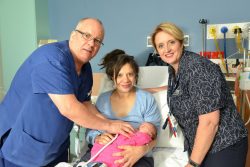 By Peter Douglas
There will be plenty of well-earned acknowledgements at Angliss Hospital this month.
With the International Day of Midwife to be marked on 5 May, and International Nurses Day on 12 May, it's the ideal time to pay tribute to their great work.
Around 450 midwives are employed through Eastern Health, including at Angliss, as well as community-based teams across the Yarra Valley.
Meanwhile, 3800 nurses are employed across the organisation.
Executive director of Nursing and Midwifery A/Prof Kath Riddell said it was the perfect time to "stop, thank and acknowledge the outstanding job done by our nursing workforce".
"Each and every one of them makes a significant and valuable contribution to the care, treatment and wellbeing of our patients," she said.
"They also provide outstanding support to patient's family, carer and friends."
Though, the thanks don't stop there, with National Volunteer Week (8 -14 May) around the corner.
Manager of Volunteer Services, Christine Ward, said volunteers made an extremely valuable contribution to Eastern Health.
"From providing transport to our patients so they can get to their appointments, to offering support in an emergency department, all volunteers make an amazing difference."
Eastern Health has about 860 community volunteers, dedicating around 178,000 hours of service annually.
People interested in volunteering at Eastern Health can call 9895 4658 or email volunteers@easternhealth.org.au.