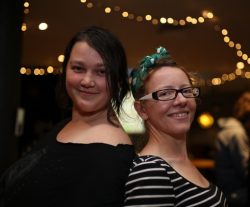 By Derek Schlennstedt
Dynamic duo Toni Main and Justine Walsh have taken over from HillsceneLIVE festival director Gareth Hart.
The decision came late last month and Mr Hart has said that after three years of being director of the festival, he believes it is important for the event to be led by a different group.
"After three years and five festivals, I believe it is important for HillsceneLIVE to be led by a different energy, different creative leader, with different visions," he said.
"As such, I have made the decision to step down as festival director of HillsceneLIVE."
Since February 2014, under the leadership and guidance of founder Gareth Hart, HillsceneLIVE has grown from a small four-hour event to a major live art festival in the Dandenong Ranges that supports over 100 artists.
In 2015, Mr Hart established a cultural leadership committee of five emerging artists, who gained extensive experience in arts leadership and festival management.
Toni and Justine, who have been chosen as co-directors for HillsceneLIVE, were both part of this cultural leadership committee and both began their HillsceneLIVE journey as performing artists in the festival.
Last year's Hillscene festival featured 25 events spanning dance, theatre, sound art, installations, live art, panel discussions, workshops, interventions and more.
The eclectic festival runs over three days and supports local artists in the Yarra Ranges.
This year's festival is set to take place from Friday 10 to Sunday 12 November and expressions of interest have opened for artists.
Gareth said he looks forward to seeing the final product and has unwavering faith in the skills and talents of Justine and Toni to direct this year's festival.
"I am thrilled that Toni and Justine will continue on as the newly appointed co-directors of the festival and have unwavering faith in their ability to steer HillsceneLIVE through this new chapter," he said.
"I look forward to seeing what these cultural champions will offer the community throughout 2017."
To apply, visit www.hillsceneLIVE.com/artist-expressions-of-interest.html.