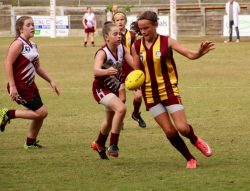 MONBULK JUNIOR FOOTBALL
Round 3 of the 2017 season saw multiple Monbulk Junior Football Club teams having byes and in the unusual position of competing against one another.
Under 10s
Monbulk Maroon v Mount Evelyn at Belgrave.
The opposition started quickly but Monbulk settled down and found their man, applied tackling pressure and won clearances. In the next two quarters, the last quarter was a bit disappointing, letting the opposition run loose around the middle and up forward.
Awards: A. Dennis-Moores, J. Sangster, J. Cotter, A. Rayner, J. Ecaver
Under 12 Girls
Mount Evelyn v Monbulk
The game was always going to be a big challenge for this group. Playing on a full ground with 16 on field and against the form side, the girls really stepped up to the demands of the game. Training was not as focused as usual, but on game day the girls listened to instructions and played great team footy.
Scores: Mount Evelyn 3.1(19) d Monbulk 0.1(1)
Awards: S. Beecroft, C. Bohher, M. Rosdenbery, I. Linde, J. Farmer.
Under 14s
Monbulk Gold v Monbulk Maroon
A competitive and constructive contest. Great effort in an open game with lots of creative ball movement. Monbulk Gold needed to lift their heads up a little more when kicking forward to maintain possession. Keep the positive outlook guys and girls. The game was played in the right spirit with an even contest. The players continue to improve on their structures and players moved the ball really well. Ben H and Gary and Tully gave great contributions. Well done to both teams with Monbulk Maroon running out winners on the day.
Monbulk Maroon 3.8(26) d Monbulk Gold 0.5(5)
Awards Maroon: T. Ford, B. Martin, H. Fleming, C. Baker, R. Ross.
Awards Gold: A. Whyman, R. Finlay, M. Bateson, W. Henderson, J. Mackay
Under 16
Monbulk v Mount Evelyn
The weather turned out fantastic for the 16s. They looked switched on from the warm-up and started the game well. Second and third quarters they looked like they were going through the motions but finished the last quarter strong. Well done.
Monbulk 11.12(78) d Mount Evelyn 2.1(13)
Awards: H. Finlay, C. Super, A. Richardson, J. Spencer, T. Hepworth.