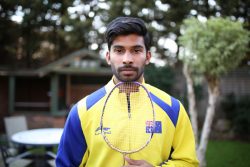 By Derek Schlennstedt
Bouncing back from missing out on the Rio Olympics, Ferntree Gully resident and number one ranked badminton player in Australia, Ashwant Gobinathan, is focusing on competing in the 2018 Commonwealth Games.
Ashwant is one of 14 Australians and 1500 participants who will compete at the Total BWF Sudirman Cup next week, from 21 to 28 May.
The Sudirman Cup is the first major event to be staged at the Gold Coast Sports and Leisure Centre and is considered a warm-up to the 2018 Commonwealth Games which is to be held at the same venue.
For Ashwant, the Sudirman Cup is a chance to prove his number one Australian ranking after a swathe of success, including a Gold medal win at the 2016 Oceania Badminton Championship.
"It's been a long journey over the last two years.
"Before the number one ranking I was playing a lot locally but I wasn't very consistent, over the last 12 to 18 months I have shown a lot of consistency and improved a lot," he said.
But Ashwant said he doesn't base his achievements off the rankings.
"To me the ranking isn't that important, I don't set my standards or achievements on that, it's much more based upon how much I enjoy it," he said.
Having played the game since he was seven years old, Ashwant has 17 years of experience under his belt and has travelled the world playing tournaments in Turkey, Africa, Malaysia, and Singapore.
In 2016 prior to the Rio Olympics Ashwant amassed enough qualifying points to finish on top of Oceania in Olympic qualifications making him a leading contender for the Olympic badminton team.
However Badminton Australia focused on the Badminton Doubles instead selecting two doubles pairs.
"I still enjoy playing and the result.
"Like every badminton player, I want to play the Commonwealth and Olympic Games.
"But, if they don't happen, if I'm not ranked number one, or if I'm not playing the Commonwealth Games or Olympics, I'm still enjoying the sport, and my life's still better because of it," he said.
This week's Surdiman Cup is seen as a warm-up game for players focusing on the Commonwealth Games and is used by coaches as a preliminary decider on building a team.
Ashwant hopes he is chosen for the Commonwealth Games but remains ambivalent and said he enjoys the game and isn't too worried if he is not chosen.
"All I can do is train as hard as I can and play as well as a I can during the tournaments, and if I end up playing the Commonwealth Games that would be great and if don't, my life is still enriched from it," he said.