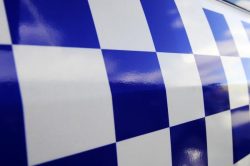 By Peter Douglas and Kath Gannaway
'I'll look for you at night when the Gembrook stars are out' posts grieving dad
The Gembrook community is in mourning this week after news that the daughter of a local family, Erin Elphinstone, 27, had died in a car crash at Cockatoo.
On Wednesday 10 May, through Erin's Facebook page, her family advised that she was missing and appealed for information.
Tragically, on Friday 12 May, police officers on foot patrol discovered her car 40 metres down an embankment on the Belgrave-Gembrook Road.
Leading Senior Constable Peter Bast of Cardinia Highway Patrol confirmed the news that Erin had passed away.
Ldg Sen Const Bast said it was believed the car had clipped the side of the road about 11pm on Wednesday 10 May before overcorrecting and going over an embankment.
Erin was the sole occupant of the vehicle and police said she died at the scene.
The family later posted the news on her Facebook page, with the family asking for "privacy at this time", but thanking friends and family for their "kind words and prayers".
"It was clear that Erin had amazing friends and was dearly loved. We will miss her," the post concluded.
Erin's father, Garry, later posted a small tribute to his daughter on his own Facebook page.
"RIP beautiful and adventurous Erin Elphinstone. You'll leave a hole in so many lives but none bigger than mine. My little Ezza, gone too soon. I'll look for you at night when the Gembrook stars are out. I'll love and miss you forever," the post read.
Erin, a student at Swinburne University, had also been a model with V8 Supercars.
She had dined out in the city on Wednesday night with her best friend and a fellow model.
Erin's family expected her to be home about 10pm, but grew worried after she failed to arrive and was not answering her phone.
Police had searched the area on Thursday 11 May but had initially failed to locate her vehicle because it was under thick bush.