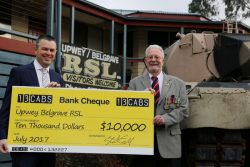 By Peter Douglas
The Upwey-Belgrave RSL Sub-Branch's bid to stay afloat has received a welcome boost, thanks to a $10,000 donation.
As part of an initiative to support the sub-branch, after the RSL fell victim to financial fraud, 13CABS receipts for trips to the sub-branch have been redeemed for a cash donation.
The RSL will next month redeem receipts for another cash donation from 13CABS.
Chief operating officer of 13CABS, Stuart Overell, hoped it was the beginning of a fresh start for the RSL.
He said institutions like the RSL were beacons for bringing people together and played an important role in society.
During what he said is a compromising time for both the sub-branch's business and people, Mr Overell also called on other local businesses to help support the Upwey-Belgrave RSL.
"We are big supporters of the local community, particularly when it affects the RSL, so we'll be hosting a series of events and activities to encourage our users to submit their receipts to the RSL," he said.
"Every dollar counts, and we hope our initiative will spark solidarity, bring the community closer together and show their support."
Overwhelmed by the generosity, RSL president David Eaton commented; "We are really grateful to 13CABS for their continued support. It's been a very challenging time for us, and this generosity is most welcomed".
In April this year, former Upwey-Belgrave RSL treasurer, Marion Myra Mills, was sentenced to four months' jail, wholly suspended for two years, after she pleaded guilty to obtaining financial advantage by deception.
Over an almost three-year period – from 26 November 2010 to 5 August 2013 – Mills made 80 fraudulent payments on her and her husband's accounts, totalling $28,918.
Mills had issued fake RSL gift vouchers to pay back the tab.
However, a recent News Corp report has suggested the RSL was left in the red to a figure of around $400,000 after Mills failed to pay bills or staff superannuation.
The report also said Mills had been ordered to pay back the stolen funds at $50 per week, but that the RSL had not seen a cent of that money.
Meanwhile, the sub-branch announced in April it would continue on until at least the end of this year, after serious considerations were made to close their doors at the conclusion of Anzac Day 2017.
The sub-branch has received a strong showing of support from the Dandenong Ranges community, though more support is needed.