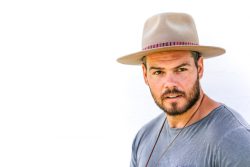 By Derek Schlennstedt
Winner of the "Best Aboriginal Act of the Year" at 2016's The Age Music Victoria Awards, Yorta Yorta singer/songwriter, Benny Walker is visiting the Dandenong Ranges to unveil his latest EP at the Upwey Skylark Room on 6 October.
Hailing from regional Victoria, Benny Walker has performed alongside some of Australia's finest songwriters including Archie Roach, Blue King Brown, Tim Rogers and Vika and Linda Bull.
As a proud Yorta Yorta man, who grew up playing in the bush and swimming in the Murray River, Benny holds strong to the premise that he creates music, and dedicates the majority of his time to touring, simply because he is drawn to it.
This is imbued in his love songs and epic tales which are mixed with passion for the land, the people, and summer vibes.
Although taking a short break from song-writing, Benny is now back with a new sound which, while different, is no less impressive.
The latest offering from Benny Walker, called Undercover, all started with the track 'Oh No You Don't', a song of reflection and of Benny moving forward personally.
His latest single "Ghost" is part of the EP release and is a groovy, soulful number with silky smooth vocals and a powerful message.
Never one to shy away from the bigger picture, Benny's EP also addresses racism and the experiences he himself has been through as an Indigenous person.
"Jan and I are both big fans of old blues and soul music, so we used those influences as the platform for the EP," Benny said.
'Stay In My Arms', 'Save' and 'Without You' are turbulent love songs, 'Ghost' is politically charged, whilst 'Undercover Of My Skin' speaks of living as an Aboriginal Australian with lighter skin and the experience of blatant racism either directed at me or indirectly as they were unaware of my heritage."
Benny has taken to the road as part of his solo tour titled Wine Women and Sou,l which is playing at smaller more intimate venues where Benny can engage with the audience and switch between guitar and piano to soulfully highlight his new songs.
Benny will play at the Upwey Skylark room on 6 October.