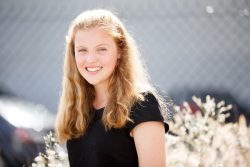 By Derek Schlennstedt
Primary school students across the country are busy practising for the 'Music: Count Us In' initiative.
Created in 2006 by Music Australia, the Count Us In initiative is celebrating its 11th year, and is Australia's biggest schools program.
The program encourages young people to become passionate about music and music education, and invites students from across the country to sing the same song, on the same day.
That song is created by students for students, and one of the very lucky people chosen to help create this year's program song is Yarra Valley Grammar student and Belgrave resident Sadie Mustoe.
With more than four instruments under her belt and an album, Sadie was one of the talented five students across Australia chosen to help write this year's program song called 'Shine Together'.
And on 2 November, Sadie will join with hundreds of thousands of students across the country simultaneously singing Shine Together, a song she co-wrote with John Foreman OAM, X Factor Australia finalist Taylor Henderson and four peers.
"I play violin, it's been my main instrument, and I've been playing that for nine years, but I also play piano, guitar and ukulele as well as euphonium," Sadie said.
"I like music, it's basically my whole life and what I do, it just comes naturally to me, I just enjoy doing it so much."
Sadie has been writing songs since she was six, and at age 13 has already released an album of her own compositions called 'girl on the hill'.
Sadie and her four peers were given just one day to create the program song for this year's Count Us In.
Her first time collaborating with other artists, Sadie said she enjoyed the opportunity to work with others in a creative environment, and added that in the final song her melody and chords were used.
"It was so much fun, it was really good having everyone's input, because we got stuck a few times with the lyrics, and it's good having seven minds on the job."
"We had people with really good melodies, and people with really good lyrics and we can put it all together."
"I feel privileged to promote music to a wider community, to express my love for music and to work with other artists in something bigger than I could have ever imagined," Sadie said.
This year's Celebration Day is on Thursday 2 November, and schools can still sign-up and participate by visiting the Music Australia website.