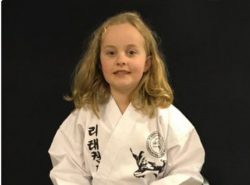 By Peter Douglas and Wendy Williamson
Family, friends and community members have continued sending out heartfelt condolences in the wake of the influenza death of an eight-year-old girl at Angliss Hospital.
Rosie Andersen, 8, was admitted to the Upper Ferntree Gully-based hospital on the morning of Friday 15 September, but died later that day.
In an effort to assist the family, a GoFundMe page has been set up – established by family friend James Bailey – which showed the level of compassion being directed towards the family.
The page encouraged members of Ausjeep to support the family, with the organisation being a big part in the life of Rosie's father, Christian Brealey.
"His (Christian's) family has suffered a loss this week, losing their precious Rosie Andersen to a simple flu in Melbourne," the post read.
"As the family struggle to come to terms with this loss, we are hoping to raise some donations to show how much we care about Christian and his family, and ease some of the burden during this time.
"We know this would break the biggest and baddest of men!"
Christian replied to the post, thanking the community for their support.
"Words cannot describe the depths of our grief. We want to thank our friends and family and the broader community for all the messages of love and compassion," he wrote.
In a statement released last week to News Corp, dad Christian Brealey went on to encourage parents to immunise their children against the flu.
"We are devastated by the loss of our beautiful, loving little angel," he said.
"We urge everyone to get their kids immunised against the flu and ask only that our privacy is respected and our family given time and space to grieve."
La Trobe MP Jason Wood was another to send out his condolences last week, saying: "Heartfelt condolences go out to her grieving parents, family, friends and school community. Thoughts and praise also to paramedics and hospital staff who cared for young Rosie."
Rosie's death came as part of what experts have said is an outbreak of flu, with Victoria's public and private hospitals reaching emergency capacities.
About 13,000 flu cases in Victoria have been reported so far this year, nearly twice as many as last year.
The flu this month already claimed the lives of several elderly people at an aged care facility in Wangaratta.
Eastern Health Director of Emergency Services, Dr Peter Archer, told the 'Mail' this region had seen a sizable increase in influenza-like presentations at its hospital emergency departments, including Angliss Hospital, Box Hill Hospital and Maroondah Hospital.
"For example, from 1 May to 14 September 2016 there were 3507 influenza-like emergency department presentations at Eastern Health hospitals. This compares to 4804 influenza-like emergency department presentations from 1 May to 14 September 2017 – an increase of 1297."
Dr Archer said it was essential for people to be aware of flu symptoms.
"These include: fever, cough, sore throat, nasal congestion, body aches, headaches, chills, fatigue and occasional gastrointestinal upset – diarrhoea and vomiting," Dr Archer said.
Meanwhile, Eildon MP, Cindy McLeish, has announced a Coalition Government would provide up to $7 million over four years for free voluntary flu vaccinations for all Victorian children between the ages of six months and five years old.
"Given the terrible flu season we have recently experienced, the Liberal Party want to ensure that the youngest in our community are protected from harm. That's why we are committing to funding flu vaccinations for children up to five years of age," she said.
"Many parents do not have their children vaccinated against the flu, because of the cost. Funding the vaccine for young children will provide a strong incentive and clear message that the safety and well-being of their children is paramount and flu vaccinations are recommended.
"Influenza is a deadly disease, with thousands of Victorians suffering from it every year. Tragically, flu takes the lives of many elderly people as well as otherwise healthy young children who can be particularly vulnerable to the illness."
Anyone unwell with flu-like symptoms should consult with their local general practitioner or get in touch with the Nurse-On-Call service (1300 60 60 24).
To support Rosie's family, visit the GoFundMe page at https://www.gofundme.com/support-australias-best-jeeper.