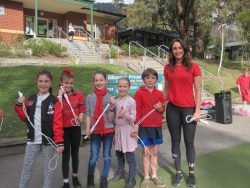 More than 100 students from Billanook Primary School earlier this month raised almost $5000 to help the fight against heart disease.
The school joined hundreds of schools nationwide in participating in a jump-off for the Heart Foundation's Jump Rope for Heart Program, with teachers and students showing off their skipping skills at the official Jump-Off Day on Friday 1 September.
The school's Jump Rope for Heart co-ordinator, Miss Paige Ruane, said the whole school was jumping with excitement.
"The students were excited to show off their skipping skills and we are so proud of their fund-raising efforts that will help the Heart Foundation fight heart disease," Miss Ruanne said.
"This is the first time the school has participated in the program and we are excited to announce that together we raised over $4800 for the Heart Foundation.
"Jump Rope for Heart teaches the students that being active is fun and they will hopefully keep these healthy habits with them for life and inspire others to join them in their heart healthy lifestyle."
National Heart Foundation chief executive officer, Adjunct Professor John Kelly AM, congratulated the students at Billanook Primary School.
"Not only are the students from Billanook Primary looking after their own hearts by skipping and being active, they are also looking after the hearts of every Australian by raising funds to help the Heart Foundation continue its life-saving work," Professor Kelly said.
For more information on Jump Rope for Heart, visit www.jumprope.org.au.