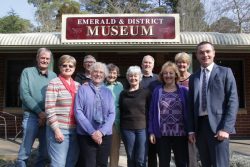 By Peter Douglas
Emerald Museum will finally receive the services of a dedicated museum officer, with the announcement lauded as a win for the icon's long-term sustainability.
Since opening in 1981, the museum has been run by a committee of management and a dedicated team of volunteers, who will now receive much-needed support in the day-to-day running of the museum.
The museum houses more than 3000 artefacts – including household items, photographs and agricultural machinery – and continues to undertake significant research projects.
Cardinia Shire Mayor, Cr Brett Owen, said council recognised the need for additional resources.
"The committee of management and team of volunteers have done a fantastic job over the years, collecting and cataloguing the many artefacts that make up its valuable collection of local history," Cr Owen said.
"The position has been created in recognition of the significance of the contents of the museum, the resourcing needs to ensure its future sustainability and to support the volunteer committee."
Volunteer and former committee member of 26 years, Chris Britton (nee A'Vard) – whose grandfather's bullock team features in the museum – said the role would be a welcome resource.
"It'll be of great benefit to the volunteers, both in terms of managing the museum and applying for grants … and all the official work that volunteers need support with," she said.
"We have a lovely group of volunteers who dedicated time to come here, spending hours cataloguing and researching.
"This will be great for the future of the museum and planning with how we move forward."
Emerald Museum committee of management member, Pauline Murphy, said they were thrilled to be receiving the support of a museum officer to help direct the museum's activities into the future and ensure the sustainability of the collection.
"It will be wonderful to have a professional person to guide us and work in conjunction with our volunteers as we strive to make the museum the best it can be and attract more volunteers and more visitors," she said.