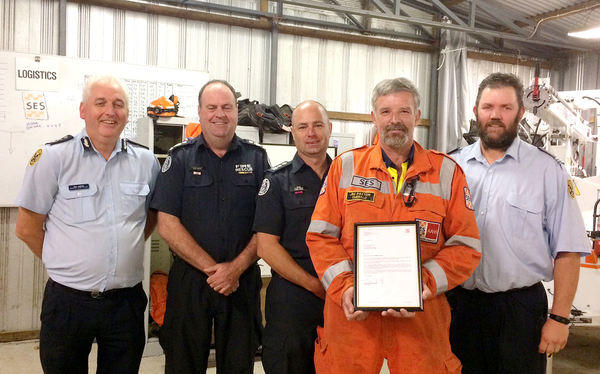 By Peter Douglas
The Dandenong Ranges' finest were acknowledged on Sunday 18 February for services carried out under exceptional circumstances, with five CFA Chief Officer's Commendations for Courage being presented.
Both Monbulk and Kallista-The Patch CFA brigades received the commendations, in addition to individual recognitions for Monbulk CFA members Rohan Piesley and Daryl Owen, as well as Emerald SES member Jeff Paxton.
Operations Manager CFA District 13, David Rankin, on behalf of the CFA's Chief Officer Steven Warrington, presented the Emerald SES award.
The incident involved the tragic 2015 death of toddler Eli Marnock, 2, who was killed when a tree fell on his family's home at The Patch during a severe storm.
Eli's sister, Nicola, then aged 5, was trapped and injured during the incident, and the responders' efforts helped to save her life.
The scene they faced in February 2015 has been described as 'horrific', as the tree completely crushed the house, with concerned family members nearby.
Kallista-The Patch CFA Captain Peter Toender was one of the first to the scene and said it had left an indelible impression on many.
"At first, it seemed to be a benign call, but you never really know until you get there," Captain Toender said.
"But what we faced was the entire house disintegrated and the parents were extremely worried. All we knew was there was a little girl trapped inside. Unfortunately (her brother, Eli) the two-year-old died."
Captain Toender was quick to point out there were many responders on that night, including eight from Monbulk CFA, four from Kallista-The Patch CFA, Emerald SES members and Ambulance Victoria paramedics.
"It was an extremely stressful incident. Everyone's got their own individual story; it's not a common job that you would expect to see," Captain Toender said.
At the time, Eli had been asleep in his bedroom when the storm hit, while his sister had been watching television in the loungeroom.
A 30m tree fell on the home about 9pm.
Emergency services arrived at the property just 10 minutes later, but Eli had passed away at the scene.
Eli's funeral was held in March 2015, where hundreds gathered at the Discovery Church in Mount Evelyn to say their farewells.
Emerald SES Unit Controller, Ben Owen, said the unit is proud of all those who responded on that night, including SES member Jim Paxton.
"During this event, he showed professional leadership skills and courage on the day when the Emerald Unit was called to assist at a rescue … from a collapsed house," he said.
"Jim was the first SES member on the scene to support the CFA volunteers and Ambulance Victoria staff, and was acknowledged for his dedication to his community in a difficult situation."
The CFA Chief Officer's Commendation for Courage recognises service carried out under conditions that demand self-discipline without the thought of personal recognition, or for an act of bravery during dangerous circumstances.
Captain Toender said the commendations aren't widely presented and is a respected, prestigious award.