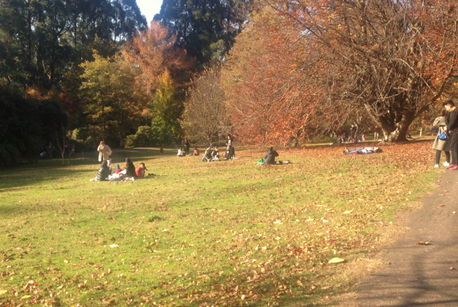 By Peter Douglas
An estimated 1600 nature-lovers helped to celebrate Botanic Garden Day on Sunday 27 May at the Dandenong Ranges Botanic Gardens.
Visitors from near and far took time out from their busy schedules to enjoy the vibrant-coloured leaves of autumn, as well as the chance to spot the odd kookaburra or lyrebird, while inspecting plants and stalls run by the Australian Rhododendron Society and Friends of George Tindale Memorial Gardens.
Ranger Team Leader, Tex Moon, said the huge turn-out was a fantastic result for this time of year, with many families and couples enjoying the special day.
Botanic Gardens Day is a national event to celebrate the role that botanic gardens play in species conservation.
The Dandenong Ranges Botanic Garden is particularly special because it is the first garden to participate in the recently launched 'Care for the Rare' program.
Its aim is to provide a safeguard for rare and threatened Victorian plant species against extinction in the wild.
Senior Ranger at the Dandenong Ranges Botanic Gardens, Craig Parsons, recently said species have been matched to a botanic garden where they are expected to adapt.
"In the Dandenong Ranges, we are getting more alpine and mountain type plants, because this is obviously a location where they're most likely to grow," he said.
"We're lucky here; we're already establishing this alpine garden. So when this program came up, they thought of us straight away because it fits in here."
Six gardens have been chosen for the first round of the program, including the Dandenong Ranges Botanic Gardens, Victoria's newest botanic gardens.
Several rare species will be added to their collection, including Bogong Daisy-bush, or Oleria frostii, which naturally occurs in Victoria's alpine regions and is highly susceptible to impact from climate change.