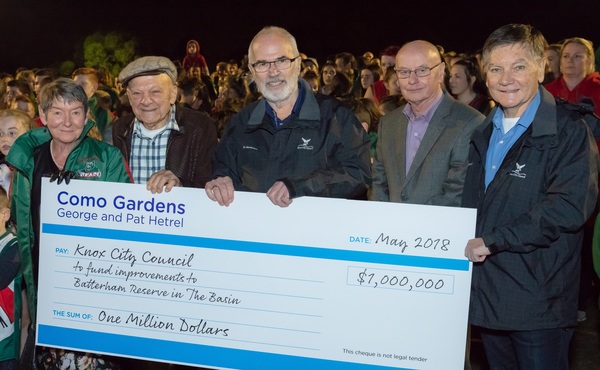 By Peter Douglas
A $1 million donation to The Basin community has left the public in awe over a popular couple's lifetime of generosity.
In a final act of good will, owners of the renowned Como Gardens Estate, George and Pat Hetrel, have handed over the substantial-size cheque to Knox City Council, which will go towards the transformation of The Basin's Batterham Reserve.
The aim is to transform the well-used community asset into a landmark sports and leisure precinct.
Knox Mayor, Cr John Mortimore, said he was left dumbfounded over the level of generosity.
"I'm still trying to believe it!" Cr Mortimore said.
"While I'm still pretty shocked, it's so typical of George and Pat to do something special to help the local community.
"Not only have George and Pat provided this outstandingly generous financial support, they are the driving force behind many of the improvements that will now take place at the reserve.
"Right now, the Batterham clubs are in desperate need of more facilities to cope with the massive increase in numbers."
The major beneficiaries will include The Basin Cricket Club and The Basin Football and Netball Club, which use the reserve as their home ground.
However, many local children and families regularly use the reserve.
Works will include a new changing facility ($218,500), changerooms extension ($220,000), new flood-lighting ($75,000), cricket nets ($250,000) and new pathways ($235,000).
George and Pat have been big contributors to the community through their fundraising efforts with Como Gardens Estate, which have resulted in the donations of tens of thousands of dollars.
Much of these funds have gone to local organisations such as the CFA, SES and St John's Ambulance.
But with George now in his 90s, he said they wanted to scale back fundraising efforts, but wanted to give one final gift.
"When we decided we wanted to do something, we got in contact with council to work out a way we could help," he said.
"We're very happy with the result; these upgrades are sorely needed. We're very proud and humbled to be able to give to the people of The Basin something that is sorely needed in the community."
Mr Hetrel has been an integral community member of the region over a long period, dating back to his involvement with English Style Confections, which is now based in Boronia.
The Hetrels sold the company in 1997, after which they held regular, renowned fundraising events at Como Gardens.
"When we started out in the company, we started with just that, English styles. But we branched out into more mainstream items, including jelly babies, jaffas, jelly beans and cool mints," he said.
"We even helped to make rocky road popular with the Australian market."
Mr Hetrel said their most recent fundraiser at Como Gardens, which they said would be their last, drew a huge response and, subsequently, they gathered one of their biggest totals.
He said it was this humbling response that inspired them to offer the $1 million for Batterham Reserve.
The couple recently presented a cheque to council in a formal occasion.
Cr Mortimore said council accepted the gift with the utmost respect.
"Not one cent will be wasted," Cr Mortimore said.
"In fact, our teams are working to deliver specific areas the couple have for improving this much-loved facility at Batterham Reserve."