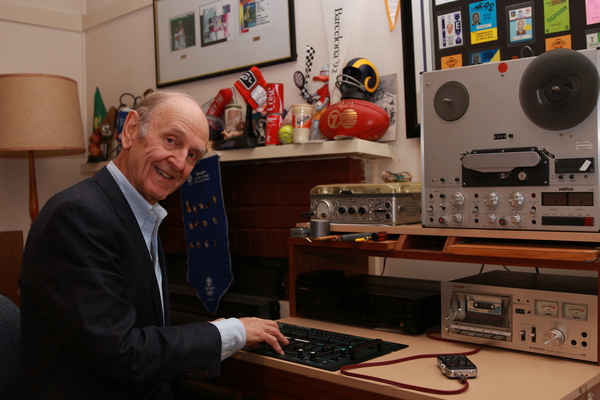 By Derek Schlennstedt
"We dedicate this station to the full service of the community."
That was it. Eleven simple words, six decades ago to declare the launch of Channel Seven, and Gordon Bennett from Sherbrooke was there from the start.
As a 14 year-old office boy at Channel Seven, Mr Bennett watched as history was made and the very first broadcasts sent out to thousands of excited Australians.
He has been around television ever since, shooting footage, producing sports shows, and has been involved in the Royal Children's Good Friday Appeal each year since its inception in 1957.
Now, after dedicating over 60 years to the industry he has been recognised for his considerable service to the community and television broadcast industry with a Medal of the Order of Australia.
Looking back on his career, he describes it only as a 'bloody great time'.
"To have spent the past 60 years in an industry for which I have so much passion has been an extraordinary experience," Mr Bennett said.
"To have been there on the very first day of television, to have worked on the 1956 Olympics, to still be employed in the industry – what amazing good fortune."
Looking back on his career, Mr Bennett has worked with a number of personalities – shooting documentary footage with the Monkees, the Seekers and Paul McCartney.
Though, it was his involvement in the Royal Children's Good Friday Appeal that has been an enduring part of his tenure at Channel Seven.
Over the years, he has gone from helping to roll up the cable to even producing the telecast for the past 18 years.
"The first Royal Children's Hospital appeal was in 1957; being an office boy, I wandered along to help roll up the cables and just be there … it was just terrific to be part of it," Mr Bennett said.
"From that humble beginning, I got to be in charge of the telecast.
"I've been associated all that time with them and it's been a terrific association … it was only a couple hours of the morning in the very early years, and then it expanded into 15 hours a day … it's all just grown up."
Mr Bennett has grown up, too; from Olympics, to grand finals, to Commonwealth Games, there's been a number of firsts and he said he couldn't imagine a better way to top it all off than with his first OAM.
"Over the years, you read the newspapers and see who got the award and I've always thought that's terrific, these people re terrific and very deserve … not once did I think that I would be nominated and get an award; just the old cameraman, that turned producer," he said.
"To receive something like this for the services I've given over the past 62 years, that's tops for me."