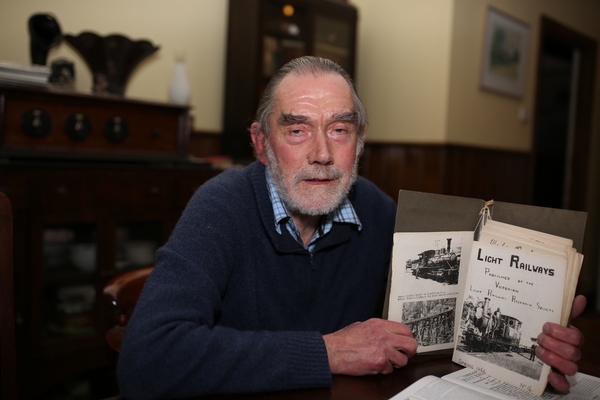 By Derek Schlennstedt
At 2.30pm in 1961, five 16-year-olds from Camberwell High School met and held a formal meeting, where they adopted a constitution, elected a president and a treasurer.
From that small meeting, the Light Railway Research Society of Australia (LRRSA) was born and today its membership numbers over 700.
One of those boys was Frank Stamford, from Emerald, who for his service to the rail transport history has been awarded a 2018 Medal of the Order of Australia.
Mr Stamford, whose love of trains was inherited from his uncle and father, said it was after a trip to Powelltown that left him with the desire to ensure that the history of railways, and the industries they served did not disappear into the past.
Having written numerous books, on the history of timber trains, and the timber industry, Mr Stamford has well and truly dedicated a life to ensuring that the history of those great steam engines and the lifestyle of men and women in that era did not go unrecorded.
"In 1958, we went up to Powelltown and much to my amazement it was a really lively area with steam operated timber tramways … everything around there remained unchanged so I took a few photographs," Mr Stamford said.
"Me and the boys from high school managed to get back there in 1961 with specific ideas about measuring up buildings and railway rolling stock and I found it practically empty … everything I was seeking had been swept away … it struck me then that the history was very fragile and needed to be recorded and remembered.
"The history of the timber industry and the way it used to operate is very different to today and is worth trying to save."
And save it is just what the LRRSA has been doing, with members dedicating time to publish, record and write about the history of trains in Australia, and the significance of them in industry.
Mr Stamford has also worked with Puffing Billy helping to resurrect the Climax steam engine, as well as helping in the reconstruction of the track from lakeside to Gembrook in the 1990s
On receiving the OAM, Mr Stamford said he was stunned and extremely thankful, though was unsure whether he deserved it, instead dedicating his OAM to the members and the committee of the LRRSA itself.