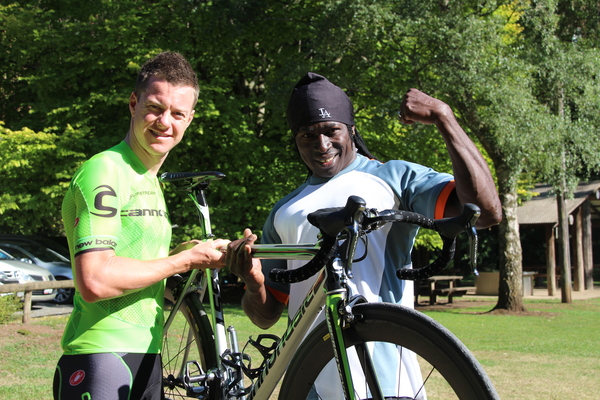 Selby professional cyclist Simon Clarke has gone from one gruelling cycling tour to the next.
After completing his fourth Tour De France on 22 July, Clarke, the now Australian Road cycling team captain and EF Education First-Drapac captain went on to start the Vuelta a Espana (Tour De Spain) a month later on 25 August.
The Selby cyclist cemented himself as a contender winning stage 5 of the tour.
Clarke's victory heralded a host of firsts – his team's first WorldTour victory since Rigoberto Uran won Stage 9 of the Tour de France last season and the Australian's first victory since 2016, and his first WorldTour win since the 2012 Vuelta.
The win was understandably emotion for Clarke.
"I worked so air since I last won a stage here and I just couldn't repeat it … it's taken me so long to get back there and have my stars aligned," he said in an interview following the stage win.
"Even today I wasn't sure it was possible. You've got to be willing to lose to win, and I was and I came out on top."
It took more than 37 kilometres of the 188.7km stage before a break was established, with Alessandro De Marchi (BMC) the signature protagonist throughout the action-packed race from Granada to Roquetas de Mar.
The stage was run fast and hard but the decisive moment came with less than 45 kilometres of road left when De Marchi, Clarke and Mollema combined to take the front.
The leading three could not pull away from one another with Mollema having already tried to go solo, though Clarke, the best sprinter of the three, jumped from wheel to wheel and kept the group together.
The tactic worked, and the Australian sprinted to his first grand tour stage since the 2012 Vuelta.
"I grew up on the track since I was 15 and it was just like track racing and I knew that De Marchi's fast but such a long stage it's so hard to sprint after that and even I was cramping when Mollema attacked and I just rode through it. I just backed myself I was so worried they were going to catch us from behind but in that situation you've just go be as cold as ice.
"You've got to be willing to lose to win and so I was and I come out on top.
The Tour De Spain finishes on Sunday, 16 September.