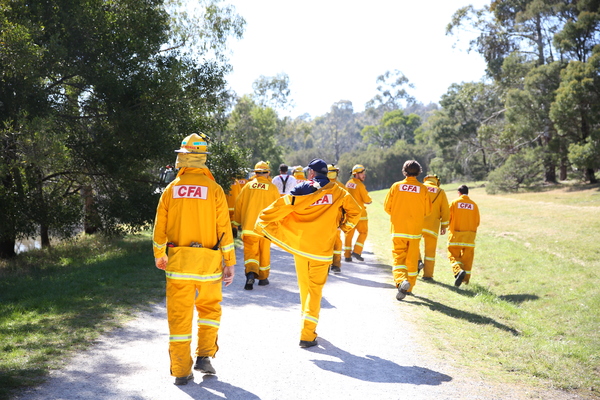 Upper Ferntree Gully CFA Captain Peter Smith knows the importance of training.
In 2009 while fighting a bushfire in Lysterfield, their truck was burnt out and they had to escape on foot. Without the years of experience and training it might have been a different story.
Nine years on and Upper Ferntree Gully CFA regularly train at Birdsland, and in preparation for the coming fire season have begun working with other CFA stations in cross-station-training days.
"Two weeks after black Saturday, we were down Abrahams track with Scoresby," Captain Smith said.
"The wind changed direction three times in 15 minutes and the flame height went from one metre to seven metres in about half-a-minute."
"We all got out unscathed but it's all from what we do here from the training and it was no different … that's why we do all this training and take it so seriously."
Seven fire trucks from Upper Ferntree Gully, Belgrave, Boronia and Upwey took part in the training exercise on Saturday 7 October.
The combined training session saw CFA volunteers from each station rotate and spend time with each different truck learning all the fine details.
"We go over the whole of the vehicle from the cabin right through," he said.
"Include all the equipment and how it's used. The pumping and different ways of getting water into the truck."
"Every truck has its own niches and differences."
"It's very hard if you go away and get put on some strange truck."
In a serious bushfire, strike teams can be called upon to help fight fires in other parts of the state.
As a result a CFA station can lose a number of volunteers and also some of its trucks. Captain Smith said that this is a regular occurrence over summer and that by combining training with other CFA stations there are always people who can fill in.
"I can lose up to three trucks at a time or ten to nine guys to a strike team," he said.
"Through this training I can ring up Belgrave, Upwey or Boronia and ask for someone to help out and I know they've got people we've trained with, who can come in and help us out."