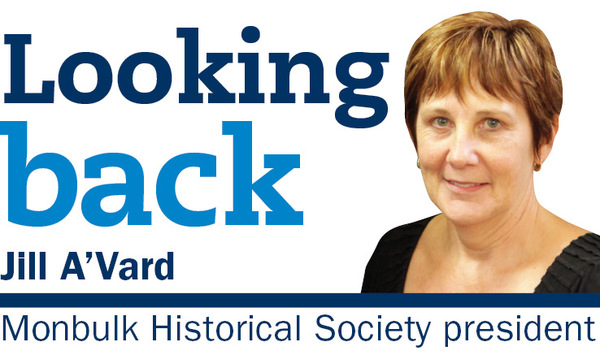 When the depression of the 1890s followed the collapse of the land boom, Village Settlements for subsistence farming were seen as one way of addressing the problem of massive unemployment.
The Dandenong Forest Village Settlement was cut out from the forest reserve and opened for selection in 10 acre blocks.
The township of Monbulk was so named because it was the largest settlement in the new Parish of Monbulk.
Although Monbulk opened for selection in 1893, the area was used for many years before then by timber getters and gold fossickers.
The post office opened on 19 May 1898.
The original town of Monbulk was opposite the primary school and for many years had just three shops to serve its residents.
There was Nation's General Store, the post office and store run by sisters Annie and Sarah Siddle, and the drapery store which also sold confectionery.
The store owners' residences were behind their shops.
In 1900 Jane Nation opened the general store in Monbulk while her husband Robert ran Nation's Coaches, a carrying business and coach service between Monbulk and the train station in Belgrave. His son Will later operated the service that continued at least until World War I.
Mr and Mrs A. E. Hopton and their two daughters, Marg and Bess, ran the store from 1921 when the town was still without electricity and the water supply came from household tanks.
The Methodist Church land was purchased for £13.2.5 ($24) in 1903 and the building completed soon after by volunteers.
Mr and Mrs Williams bought the drapery shop opposite the Mechanics' Institute Hall in 1914 and later sold it to Miss Fowler and Miss Bray in 1925.
Confectionery on one side and haberdashery on the other satisfied both mothers and children.
Mr and Mrs Hefford opened a garage and milk bar opposite the end of David Hill Road in about 1950.
Dave Lane opened his garage and taxi service next door to where the panel shop is now.
The Monbulk Primary School started life in 1897 as The Dandenong Forest Village Settlement State School but was renamed Monbulk State School in 1899.
The small school building and nearby hall burnt down in the 1913 bushfire so classes were held in the Methodist Church across the road until the school was rebuilt on the same site on the corner of Main Street and David Hill Road.