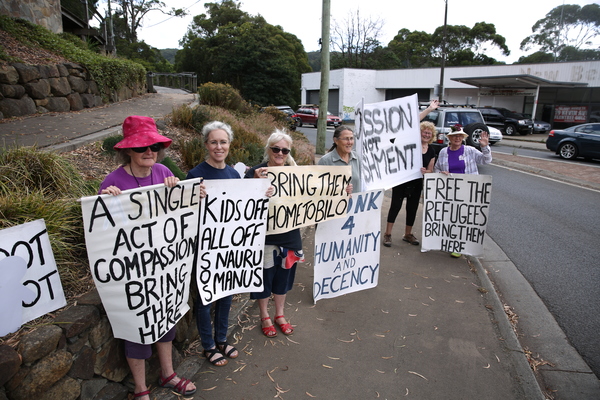 Since November 2017 a small group of local women have congregated at the Belgrave roundabout with signs which say 'Honk for Humanity,' 'Bring them Here,' 'Justice 4 Refugees,' 'Shut Down Manus and Nauru,' and 'Kids Off All Off'.
The group was created in response to the Manus siege in 2017 when Manus Island was decommissioned, leaving many refugees without a place to stay.
In the lead-up to the Federal Election, those women are ramping up their efforts and have now begun lobbying in Lilydale.
Prue Licht, a Belgrave resident and a retired social worker told the Mail that that the response from public, particularly in Belgrave has been largely positive.
We Started 18 months ago with a walk kindred had a walk down the main street and we decided we'd stand on the roundabout, went onto the roundabout and continued to stand on the roundabout,
We've counted toots and waves ever since we've started and they've gradually gone up and in Belgrave they've gone up to 537 last weekend- that's the highest it's ever been, so obviously there's a lot of support.
"Everyone's been hugely supportive," Prue said.
Everyone it seems, except the federal members.
"We have approached politicians for some time to talk to them, Jason wood has spoken to us and we've been to Tony Smiths office but haven't been able to see him."
To emphasise their message many of the women have set up at the corner of Anderson and Maroondah Highway in Lilydale – which is closer to the centre of the Casey electorate.
"About three weeks ago we realised what a huge part of the electorate Lilydale is … last time we were there I counted cars and I got 4000 an hour and I know I missed a few, whereas in Belgrave we average 16-1700 an hour," said Irene Day
"The few times we've been there the numbers have certainly grown in recognition and you can see them riving past and reading."
Prue Licht said that if the government fails to address the issue at the next election, it's likely that the group will continue to protest.
"It doesn't matter who's in power, we'll be there until everyone's out of detention … it's immoral, it's cruel and inhumane."