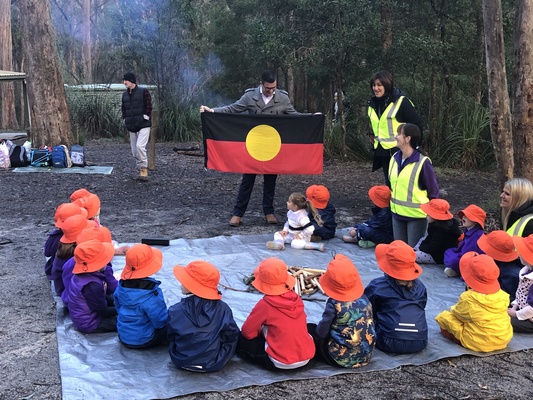 Liberal State Member of Parliament Brad Battin MP joined students at Gembrook Pre-School and their parents for some bush tucker on 13 April at their fortnightly bush kinder.
Gembrook Pre-School's Wombat Group meet regularly at Gilwell Park to immerse their students in the great outdoors, spending their kinder session exploring and learning about the nature around them.
Brad Battin MP presented the Wombat Group with an Aboriginal Flag and highlighted the importance of understanding the responsibility we all have in protecting our environment for the future.
"It is wonderful to see the dedication of Mrs B and the Gembrook School Committee in recognising the importance of our children getting outside and exploring nature" Mr Battin stated.
"The Gembrook community are fortunate to have Gilwell Park at their doorstep. A special thank you to Russell Bradd, Manager of Gilwell Park, for supporting the initiative and assisting with the Pre-School's bush kinder."
The Aboriginal Flag was not the only gift the students received this morning.
The Gembrook Craft Group presented the students with a handmade indigenous sign with 'Wominjeka' meaning 'welcome' in the native language of the Wurundjeri people.
Students treated their guests with baked potatoes cooked on their campfire before exploring the bushland around them.
"It was great to see the students balancing along tree trunks, exploring for bugs and getting down and dirty with nature where their imaginations were running wild." Mr Battin explained.
"It's the early interaction with nature and the environment that will ensure future generations have a deep understanding of the environment they have inherited and the responsibility they hold in taking care of their surrounds."
Gembrook Pre-School has been running the 4 hour bush kinder session in Gilwell Park for the past 5 years.