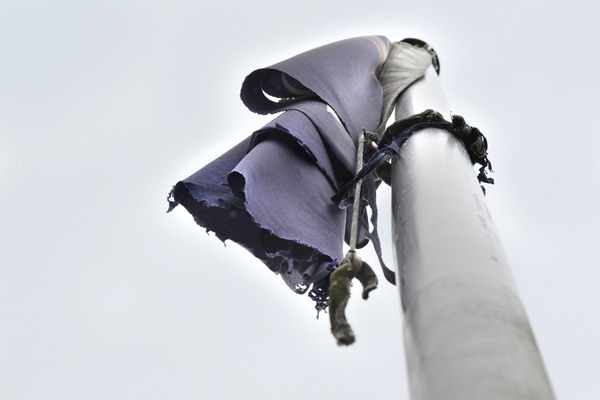 We need to talk about your Australian flag, Belgrave.
Up a flagpole in Belgrave is a torn, tattered and ragged Australian flag that for the past year has been solemnly ignored.
In a country where every Australia Day is celebrated by people ready to get fake Aussie flag tattoos or don Aussie flag beach thongs, who would have thought that replacing an official Australian flag would be so hard.
Over the past year Belgrave resident Belinda Clayton has endeavoured to address the problem even if it means taking action herself.
Since June 2018, Ms Clayton has been in contact with Yarra Ranges Council, Local Member James Merlino, Federal MP's Jason Wood and Tony Smith, and even the local RSL – all who seem to have shirked any responsibility.
"Around last year's Anzac Day I noticed that the flag in Emerald was looking tired and that they'd had it replaced and that's when I noticed ours and I thought 'okay let's get ours done,'" she said.
"I contacted the RSL club who advised me that Yarra Ranges Council are responsible for it, who said who said it was MP Tony Smith, who advised me to contact Jason Wood."
"What I have found somewhat disappointing is passing the buck, I thought any one of the authorities I contacted would have been proud to raise our Australian flag, but instead red tape."
The symbol of great importance to many Australians seems to have lost much of its initial shine in Belgrave, with the flag showing clear signs of wear and tear.
The tattered ends blow sadly in the wind and holes can be seen in the mid-section.
"If you look at how deteriorated it is, you can see that it's been like that for a long time," Ms Clayton said.
"It has now been 14 months since I first raised this issue and still no real progress."
According to Yarra Ranges Council, the flag is a Federal Government Responsibility.
Through her communication to Tony Smith's office before the federal election, Ms Clayton was told the rules stipulated that only a Federal member can give a flag to a group or individual in their electorate.
As the change in electoral boundaries only came into effect following the election, Jason Wood was still the responsible member. However, despite contacting his office Ms Clayton never heard back.
It's understood that in the past Jason Wood has on a number of occasions assisted in the replacement of the flag.
Following the election Ms Clayton was told that a flag was available at Mr Smith's office but a group would have to officially request it.
Most recently Ms Clayton received news from the Belgrave Traders Association who are already aware of the issue and are in the process of having it replaced.
The Belgrave Trader's Association hope to have it replaced in the next few weeks and they will also be adding an Aboriginal and LGBT pride flag.