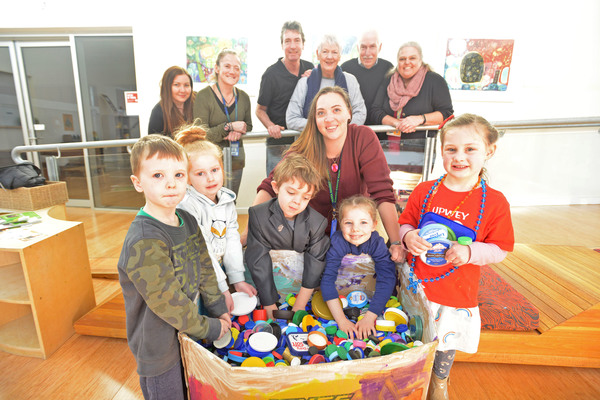 The staff and children from Sherbrooke Children's Centre and Upwey Preschool have embarked on an exciting art project that involves creating a large-scale artwork out of recycled bottle caps.
Stephanie Reynolds from the Sherbrooke Children's Centre said the project is designed to educate the children and the community about the importance of recycling and protecting our environment.
"We're very conscious of educating our kids about the environment," Ms Reynolds said.
"We thought this would be a good way to incorporate it with our current environmental programs and educate kids about the environment, and that little things can make a difference."
"It's a reminder that even though you are just one person, if we work together we can make a difference."
The artwork is going to be displayed on the walls of the Sherbrooke Children's Centre and, when finished, will be approximately 5 metres long and 1.5 metres high.
Ms Reynolds said the Preschool is working with local artist Andrea Innocent and is going to be designed to represent the local environment within Yarra Ranges.
"Andrea Innocent is helping the kids with the design," Ms Reynolds said.
"It is sort of a landscape theme … hills and lots of trees and sun, we'll have a house on it to represent the Sherbrooke centre and five animals too."
"Each of our rooms has an animal name so each of those animals will be on there."
The final mural is expected to use around 40,000 bottle caps and the pre-school is working closely with the Upwey Traders Association, who has kindly helped get six collection bins placed in local businesses around Upwey.
Ms Reynolds said bottle caps were chosen as they cannot be recycled.
"I just feel very grateful that our kindergarten educators Katherine Korvin and Sherbrooke's Kinder teachers Robyn Pappon's came up with this idea, because a lot of people don't realise that bottle caps can't be recycled."
"The kids really get excited and come up to reception and have their little bags of bottle caps and are quite interested to see the boxes grow … we've probably got about 7-10,000 now."
Ms Reynolds explained that although 40,000 might seem like a large number it only makes up 2 per cent of the 2,000,000 bottle caps that washed up on shores around the world last year.
"We're just saving the world one bottle cap at a time," Ms Reynolds joked.
"But we've got 200 children here and they're all on-board so we'll get to our goal before we know it."
You can drop off bottle caps at certain traders in Upwey or at any Community Link building in the Yarra Ranges, including the Sherbrooke Children's Centre.