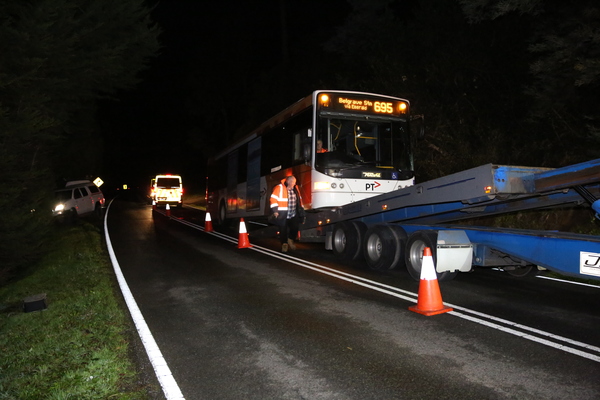 Man hit by bus
A bus struck a man in his sixties on Belgrave-Gembrook Road in Menzies Creek about 7pm on Friday 19 July.
It's believed the man was helping an injured wombat between School and Church roads when the 695 Ventura bus struck him.
He was airlifted to The Alfred hospital in a critical condition with life-threatening injuries.
A spokesperson at The Alfred said the man remained in a critical but stable condition.
Seven times over
A 30-year-old woman was almost seven times the legal blood alcohol limit after allegedly rear-ending a car in Cockatoo on Friday 19 July.
An off-duty police officer reported seeing a vehicle driving erratically shortly before 5.30pm.
Mount Evelyn police tracked the driver to her Launching Place home where she allegedly returned a positive breath test.
She also admitted to being involved in a collision with another vehicle on Paternoster Road shortly after 5pm – she exchanged details with the other driver before heading home.
Police took the woman to Lilydale Police Station for an evidentiary breath test where she allegedly returned a reading of .345.
Her licence was immediately suspended and she will be charged via summons in relation to drink driving and other traffic-related offences.
Man hit by car
A car struck a man while he was walking along Monbulk Road outside the Micawber Tavern on Saturday 20 July, about 11pm.
He was airlifted to hospital with life-threatening injuries.
The driver is assisting police with inquiries.
Anyone with information about the incident should call Yarra Ranges Highway Patrol on 9739 2300.
Bus burglary bust
A man is facing theft and drug charges following a raid on Ventura Buses in Monbulk.
Yarra Ranges CIU detectives allege the 29-year-old Mooroolbark man broke into the Old Emerald Road yard between 5pm on 14 July and 5am the following day.
They said he broke into 12 buses and stole eight GPS units, a personal GPS system and a portable speaker.
Police searched the man's home on 15 July and allegedly recovered the stolen property.
They also uncovered a traffickable quantity of cannabis during the search.
The man was remanded to face court at a later date.
Stolen items
Olinda police are trying to return stolen items to theft victims.
On 17June they arrested and charged a man over 43 incidents of theft from and of motor cars.
They recovered a variety of property such as jumpers, coats, pants, sunglasses, back packs, boxing gloves and a subwoofer.
Police would like to return as much property to victims as they can.
The thefts occurred mainly in the Upwey, Mooroolbark, Silvan and Ferntree Gully areas.
Owners should email vp27951@police.vic.gov.au with images of the property they had stolen.
Police search for burglar
Yarra Ranges CIU detectives are appealing for public help following a burglary in Mooroolbark on Friday 12 July.
Police said an unknown man forced entry to the rear door of a house on Kalimna Street just before noon.
It is believed the man, armed with a jemmy bar, knocked over a security camera and ran from the house empty-handed.
He was wearing a surgical mask and a black hooded jumper at the time.
No-one was home.
Anyone with information should call Crime Stoppers on 1800 333 000 or submit a confidential report at www.crimestoppersvic.com.au.