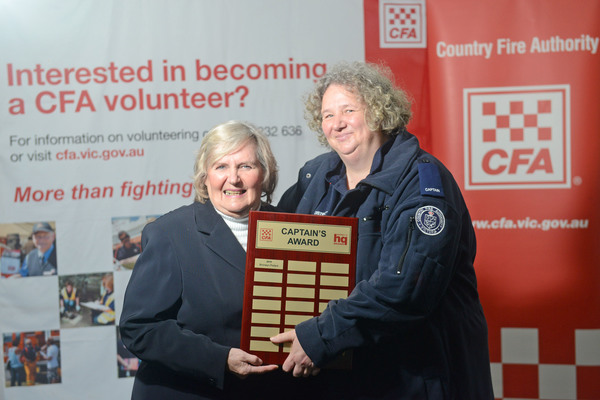 Montrose resident Bronwyn Pollard has become the inaugural recipient of the CFA District 13 Headquarter Brigade's Captain's Award.
The award was presented in recognition of Ms Pollard's many years of dedication and commitment at the brigades annual awards dinner on 24 August.
"I was taken by surprise but thrilled to bits to have been named the inaugural recipient. It's such an honour and a privilege," Ms Pollard said.
Ms Pollard has been a CFA member for 17 years and was one of the founding members of the Headquarters Brigade 13 years ago.
"As a child, I spent many holidays in Montrose having joyful times with my family," she said.
"When I moved to Montrose permanently, I decided that I wanted to give something back to the community so I joined the local CFA Brigade."
Her main area of expertise is logistics, a field which has seen her work on some of the worst bushfires in Australian history.
Ten years ago, Ms Pollard was based at the Incident Control Centre (ICC) in Woori Yallock during the Black Saturday bushfires.
"Whilst the 2009 fires were a stressful and demanding time for all, I was privileged to have had the opportunity to work alongside all the emergency services and the many volunteers who gave their time," she said.
The District 13 Headquarters Brigade is a non-operational brigade that supports fire brigades and firefighters within a district towards the east of Melbourne.
District 13 Headquarter Captain Serafina Munns said the brigade works on numerous projects such as community education, community safety and assistance with ICC.
"We have a bit of a slogan, we're the volunteers behind the fire line. So we're not on the fire line, we're behind it, supporting those on the fire line," she said.
Members of the brigade typically have a wealth of experience, with an average membership of about 15 to 20 years.
Ms Munns said the awards dinner was an important event that honoured those who have unselfishly given their time and commitment to supporting the community.
"Our members take their roles very seriously. Most have given years of service to protect both lives and property, and serve their communities," she said.
"Our members have a diverse range of skills and extensive experience giving us the capacity to provide assistance when and where needed most at any given time."
Other award winners on the night were Tony Van Meurs (35-year service medal and life membership), Rob Esson (20-year service medal) and Claire Cassidy (5-year certificate of service).