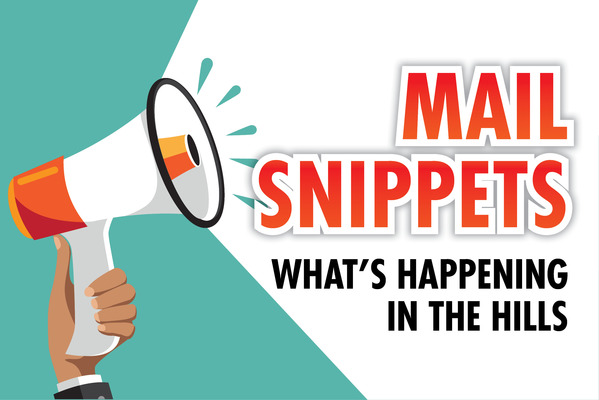 New station opening
Selby CFA is having an officla opening of their $1.35 million multipurpose station. The old station, which was built in 1977 was demolished in January to make way for a new building which was funded by State Government. The official opening of Selby Fire Brigade's new Fire Station is on Sunday 27 October from 2pm-4pm. Everyone is invited to come and have a look.
Community Die-logue
The Yarra Ranges Community DeathCare Collective invites you along to their special Community 'Die-logue' 'How to have the brave conversation'. The 'Die-logue's are group-led informal conversations over a cuppa. In each Die-logue the group explores different topics around Death and Dying. A Faciliator is present to ensure the conversation flows with the energy and interests of the group and that all voices have the opportunity to be heard. For more information contact Christina 0424100420 . 16 October 1-3pm at Tecoma Uniting Church.
Dying to Ask
Join the Yarra Ranges Community Death Care Collective for their 'Dying to Ask' afternoon, which is an opportunity to meet local Death Doulas, Funeral Providers, Celebrants, Grief Counsellors, Art Therapists, and support organisations, and ask questions related to death and dying. In this panel style session questions will be fielded from the audience and directed at the panel of professionals through a mediator. The event takes place form 1-3:30pm at Tecoma Uniting Church on 22 October. For more information, contact Christina 0424100420
Friends of Emerald Lake Park
The Friends of Emerald Lake Park invite Seniors to enjoy a stroll around the lake, and enjoy the abundant bird life that call Emerald Lake home. The walk will finish with morning tea and takes place on 17 October from 10am-12pm, meeting at the Lakeside car park. For bookings call; 5968 4603.
Guided walk for seniors'
Friends of Emerald Lake Park will guide a walk to the Nobelius Heritage Park and Emerald Museum on Wednesday 23 October from 10am-12pm, as part of the Seniors Festival. 10 am-12 pm. Listen to a local history talk, browse the Museum, and enjoy morning tea before returning to Emerald Lake Park. Meet at Lakeside car park Emerald Lake Park. For bookings call, 59684 603
Bushwalking
Join the Life Activities Club Knox Bushwalking group. Every Thursday they enjoy the Dandenongs and the Warrandyte area. They also travel with public transport. Wear sturdy shoes, bring lunch and water bottle, and join them for a test run. Contact Rhoda on 0438 807 770.
Life Activities Club Knox
Life Activities Club Knox is holding their quarterly meeting on November 25. They group is open to the community and the guest speaker will share gold prospecting experiences. Join in on up to 3 activities, and only then, will LACK ask you to join. Annual membership is only $25 per person. Apart from the choice activities, we have quarterly newsletters and meetings.
Avenue of Honour
The ever evolving Halloween on the Green are initiating a Avenue-of-Honour in 2019. Organisers are asking all Festivalgoers to consider participating by bringing a picture of a loved one passed or loved pet pasted and peg the image to our avenue lines. At 3:29pm on 26 October the entire site and Festival will be shut down for just a moment to share and reflect. Organisers hope that this will resonate with the community and be embraced as a staple tradition for future Festivals.
Recycling: Have your say!
On October 17 in Emerald, a coalition of community groups will be hosting a Community Recycling Forum at which residents can have their say about what they think should be done to fix our recycling system. Listening to residents views will be a panel made up of Brad Battin MP a representative from the Greens and Councillors from Cardinia and Yarra Ranges. The panel members will explore what can be done to set up a better recycling system including the 5 point Action Plan proposed by the Municipal Association of Victoria. To have your say rsvp by email to pcook@wildcoast.net.au. The forum will begin at 7.30 pm at the Emerald Community House Hall (opposite Mitre 10)
Art of the Mountain
Art of the Mountain is a contemporary exhibition of work inspired by the natural environment of the Dandenong Ranges. More than 70 artists will showcase work in different media including paintings, sculptures, metalwork, woodwork and pottery. The exhibition will be held at Karwarra Australian Native Botanical Garden, 1190 Mount Dandenong Tourist Road, Kalorama from 5 – 20 October. Entry is free.
For enquiries contact 97284256.