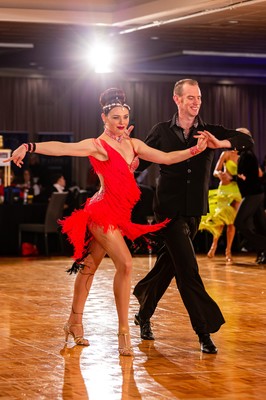 Five years ago, Milla Sambell from Macclesfield watched on as her three-year-old son passed away.
The years that followed were filled with trauma, grief and a complete loss of understanding on how to continue living. But In 2018, Ms Sambell found comfort in dancing and that all changed.
Since then she has found a new love for the sport, and this December will compete in Australia's premier competitive DanceSport event – the 2019 Australian DanceSport Championship.
"It is said that you can both lose yourself and find yourself in dancing. I have found truth in those words, especially during the past 15 months," Ms Sambell told the Mail.
"I thought I would never feel alive; I lost all purpose, I lost myself and refused to believe that I could feel happy ever again.
"The thing is, I was born to dance. It has been my passion from the start, but life would dictate otherwise and I had to give up on dance at a very young age. I thought I had lost my chance forever.
"Except now, in my 30s I have discovered there is no such thing as being too old to pursue a dream."
Following her son's death, Ms Sambell rekindled her love for dance and joined a small ballroom studio in Belgrave South in July 2018.
Although she felt overwhelmed by being in a class with younger people, she persisted.
"I remember feeling overwhelmed, not being able to keep up with the kids on my first lesson, and so I began private lessons," she told the Mail.
"I soon discovered that there was a whole world of ballroom and Latin dance, that, if I worked hard enough, I could be a part of.
"Three months later, I competed in my first competition, placing first in Rumba and third in Waltz."
For Ms Sambell dancing has provided a psychological relief from the death of her son and has given her a new lease on life.
Speaking to the Mail Ms Sambell said that through dance one could 'lose track of the negativity in life, and find a better version of themselves'.
"Words can hardly express what dancing has given me. It has given me purpose, something positive to live for and to absorb myself in," she said.
"When people are hurting, they need more than empathy; they need something to do. And my suggestion is, just dance."
Ms Sambell will be doing just that, when from 6-8 December she will compete against globally-recognised dancers at Margaret Court Arena as part of the 2019 Australian DanceSport Championship.