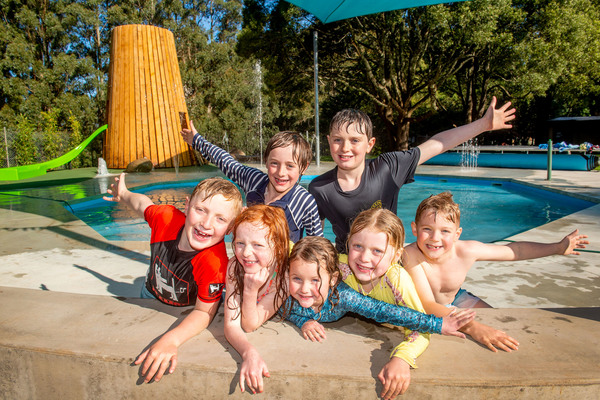 Olinda Community Pool officially opened for the 2019-20 Summer Season on 30 November, unveiling their new Toddler Pool and splash zone.
The pool has been under construction since early this year after Member for Monbulk James Merlino announced in October 2018 that the Olinda Community Pool Association would receive $174,050 as part of the Pick My Project initiative.
That funding has gone toward upgrade the toddler pool, buying the shade sails, and building a splash zone for water play, including jets and fountains.
Olinda Community Pool Former President, James Edge said the pool is virtually unrecognisable, and prior to the construction the toddler pool had remained unchanged for decades.
"We have really upgraded the area surrounding the existing toddler pool to include really fun features aimed at our youngest visitors and their families," Mr Edge said.
"There's now water spray features, some interactive tactile based play areas, plus a new and improve shade sail, and seating area for parents and and the biggest feature is a new iconic water slide."
"What's been built is this big wooden structure – not unlike a tepee – and the kids can climb up inside it and then come out the other side in a water slide … It's really amazing, and really going to change the whole vibe of the place."
Mr Edge paid particular tribute to Director of RB Landscapes and local resident Richard Bellemo, who designed the area, as well as current Olinda Community Pool President Duncan Brown.
"There's a lot of thanks that need to be given to the project's biggest contributor Duncan brown who is the president of the Olinda Community Pool association and of course Richard who designed it. "
"We had huge support from all the contractors involved and they've all added more than they needed to."
"It truly has been a community effort in terms of all the organisations and individuals who combined to ensure that the pool would be ready by December 1, and it's turned out to be a fantastic success."
The pool is currently offering early bird family passes which are only in the first two weeks of the season.