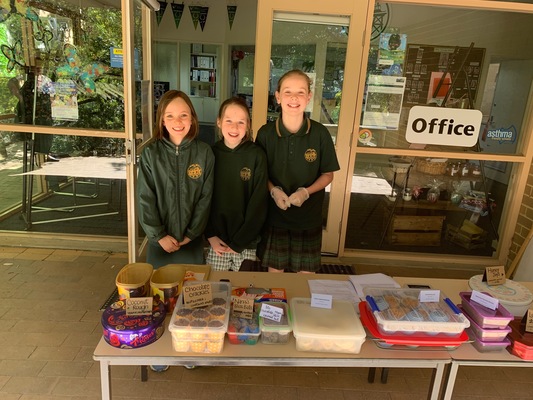 Students give a little, help alot
No child should go without a present this Christmas. That's the message from grade four students at Selby Primary helping to ensure that everyone gets to open a present on Christmas.
Grade four Selby Primary students Eliza Stephenson (9), Evie Kyle (9), Grace McInerney (10) have diligently planned, purchased ingredients, baked, and organised a bake sale and sausage sizzle with the aim of raising funds to buy toys for kids less fortunate.
With the help of Principal David Orlandi and teachers, they were able to raise over $520 in total
The funds were used to purchase Christmas gifts for children and other supplies to be distributed via the Dandenong Ranges Emergency Relief Service prior to Christmas.
Beauty in eye of beholder
And the award for ugliest roundabout goes to the Belgrave Gembrook Road/Belgrave Hallam Road roundabout.
A sign denoting the win was placed on the roundabout sometime in the last week, though it remains unknown who placed it there.
The sign states 'AWARD UGLY ROUNDABOUT' written in bold letters and there's also a snazzy star featuring on it so it's clear that the award is pretty official.
Residents have found the sign particularly amusing though admit the roundabout could do with a bit of a makeover.
According to residents, the roundabout was once planted with succulents, though they have since disappeared.
10 years for councillor
Yarra Ranges Councillor Tim Heenan celebrated 10 years of service at the council's final meeting on 10 December.
Cr Heenan received an award from Mayor Richard Higgins who congratulated him for his outstanding community work.
"It's really rewarding and I've really cherished my 10 years on Council at the Yarra Ranges," Cr Heenan said.
"It's an enormous task to try and fulfil everyone's needs and every now and then obviously you're unable to do that.
"We still keep coming back and still keep trying."
Cr Heenan also celebrated a motion being passed that awarded the construction and upgrade of the Morrison Reserve Car Park and Drainage Retention Basins to JTX Civil Contracting Pty Ltd.
He said this was a positive outcome for his community.