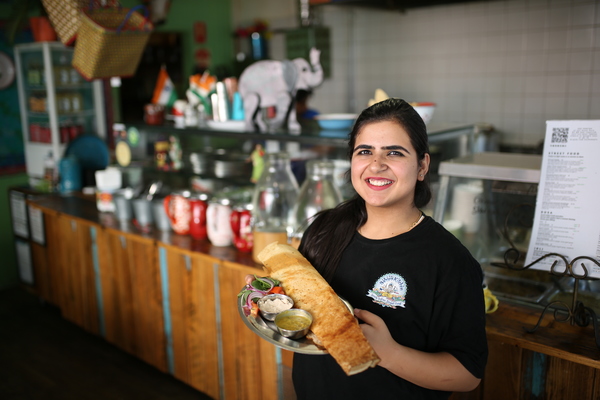 In the midst of Australia's worst bushfire season in decades, and as thousands of hills residents contribute to fundraising campaigns, the Mail wanted to share the power of our community coming together to help those in bushfire-affected communities.
In Mallacoota, where businesses are struggling to stay alive after bushfires wiped out the busy holiday period, help is on the way.
For the past week, customers that have bought a Masala Dosa at Babajis Kitchen in Belgrave have indirectly assisted the Mallacoota Golf Club.
It's part of an initiative to ''adopt a shop'', where businesses help out those doing it tough by paying it forward.
Until recently, Babaji's Kitchen owner, Billy Crombie, had no connection with the Mallacoota Golf Club, but for the past week has been passing on all the sales from her restaurant's speciality, Masala Dosa, to the bistro at Mallacoota Golf Club.
Ms Crombie noted the significance of the bushfires and their impact on small businesses.
"Quite simply, it could have been us and I ask myself how would the businesses of Belgrave financially survive?"
"We all know that business in general is tough and for some of us a sudden drop in turnover due to no tourists visiting the town and little local foot traffic could see the end of our businesses.
"That got me thinking – how can I help business to business, a business that is seriously struggling during these fires?
"We personally (Babaji's Kitchen), are going to donate all our takings of our signature dish – Masala Dosa to the Mallacoota golf course for the month of February."
Already Babaji's has raised $684.24.
The Indian restaurant is not the only place in the Hills assisting bushfire-affected areas, and a number of community-led events are taking place across the Dandenongs to assist in the bushfire relief effort.
Kean from Blacksmiths in Belgrave is taking 25 people on a golf trip to the Mallacoota Golf Course and the Black Goat Timberworks are building 50 nesting boxes to suit possums, sugar gliders, birds and owls.
Olinda comedian, David Rose has organised a comedy gala with Dave O'Neil, Nazeem Hussain, Richard Stubbs and Glen Robbins performing on 28 January in Mooroolbark. Tickets here: https://bit.ly/2sJ6SdE
Back to School and Beyond is a Bushfire Appeal project combining Cockatoo Primary School, Emerald Lions, The Emerald Co-Op and The Emerald Village Newsagency. These locations are taking donations of school supplies to help kids in Gippsland start the new school year with suitable school supplies.
The newly established Black Bee in Belgrave is holding 10 bands in 10 hours event on the 26 January.