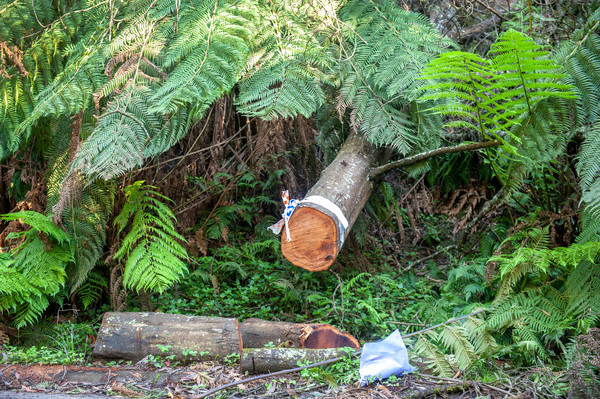 A 32-year-old man and 34-year-old woman, both from Aintree, and a 16-year-old boy from India were killed after a tree fell onto their moving car in Kallista on 8 March.
Police believe the vehicle was travelling along Sherbrooke Road when it was struck by a falling tree and then veered off the edge of the road just after 2.30pm.
A 25-year-old woman from India and 4-year-old boy from Aintree were both transported to hospital in a stable condition for observation.
Police said that the deceased included the driver, right rear passenger and front left passenger.
Sherbrooke Road was closed in both directions between Owen Street and Braeside Avenue following the incident.
Yarra Ranges Council Mayor Richard Higgins acknowledged the crash at the council's meeting on 10 March and offered his sincere condolences to those involved.
"Our thoughts are with all the people involved in Sunday's accident in Sherbrooke Road, Kallista," he said.
"We understand that incidents like this are concerning to our community, but they are an unfortunate reminder of the unpredictable nature of the treed environment in which we live."
Cr Higgins said the council has been working with authorities and other agencies to determine the exact details of what happened.
He said it is understood the tree fell from the Dandenong Ranges National Park which is managed by Parks Victoria.
"We understand Parks Victoria is likely to be the leading agency involved in the Coroner's investigation into the Sherbrooke Road fatality," he said.
"However, Yarra Ranges Council is committed to doing everything we can to assist with the Coroner's investigation into this tragic accident."
Parks Victoria CEO Matthew Jackson acknowledged the organisation's role in the investigation.
"Our thoughts are with the families of people who died in a tragic accident on Sunday 8 March in the Yarra Ranges," he said.
"We are working with the Yarra Ranges Council and Victoria Police on their investigation."
The incident comes after a father and son from Cockatoo were killed when a tree struck their car on Monbulk Road, Sherbrooke last year and a woman was also killed last year after a falling tree struck a car on the Black Spur.
Police have urged anyone with information or dash cam footage to contact Crime Stoppers on 1800 333 000 or submit a confidential report at www.crimestoppersvic.com.au.