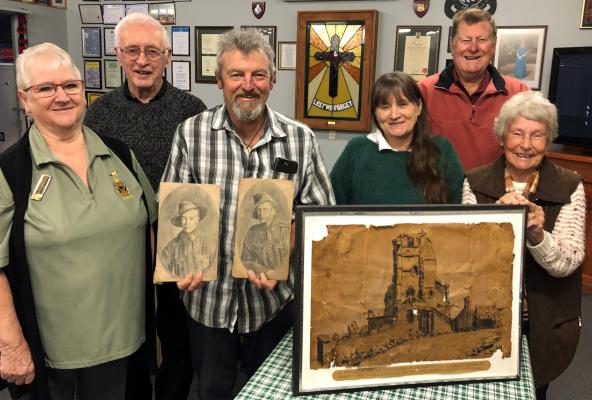 Members of the Mt Evelyn RSL were left feeling "pleasantly surprised" after recently being gifted numerous rare WWI objects by a local family.
The objects, donated by Glennis Ellis and her children, Rob and Vicki, included numerous items that belonged to Private Robert Ellis.
Robert's son and Glennis' husband, Russell, kept the items for years before Russell passed away on Anzac Day last year.
Glennis said the family decided to give the "treasured" objects to the Mt Evelyn RSL so they would be appreciated by the public and looked after for years to come.
"There are quite a lot of returned soldiers up here from all of the wars and they might be interested in it," she said.
"We thought we'll do this while we can and let people appreciate it."
The objects donated included an original sketch drawn by Private Robert Ellis, while he was serving as a 19-year-old in France with the Australian Imperial Force (AIF).
Also donated were two pencil sketches drawn by a German prisoner of war and an original RSL badge with only two figures (a soldier and a sailor) – nowadays the badge has four figures.
Local military historian Anthony McAleer said the items were "fascinating and quite rare."
"The drawing of the shelled out church in Proyart gives you some insight into the destruction that took place in the village, that was the scene of some heavy fighting in 1918," he said.
"The portraits by the German prisoner of war are very rare, I've never seen anything like this, and it is quite amazing that the family was able to preserve them."
Mt Evelyn RSL president Roger Boness said the items would be proudly added to the RSL's collection.
"We will be getting our member Steve Deakins of Art With Distinction to properly frame these with conservation glass to protect them from any UV damage," he said.
"That way we can have these on display for visitors and school children to see and learn from."
Glennis said she was extremely happy with the decision to donate the items and that she was overwhelmed by the positive response from the RSL.
"We went up there, Rob, Vicki and myself expecting just to hand it over. But the whole committee was there, I felt really important," she said.
"I came home and my husband's ashes are in a box and I patted the box.
"I just would like to thank the RSL properly for being so excited about having these things. I didn't expect it but apparently it means a fair bit to them."
Robert Ellis was born in 1899 and grew up in South Melbourne before enlisting in the AIF at age 18.
After his training he was sent overseas as a reinforcement for the 6th Battalion.
He arrived in England on 14 November 1918 and was stationed in France that same year.
Robert returned to Australia on 25 September 1919 and after the war he turned his talent for drawing into a career as a signwriter.
He died in 1957.