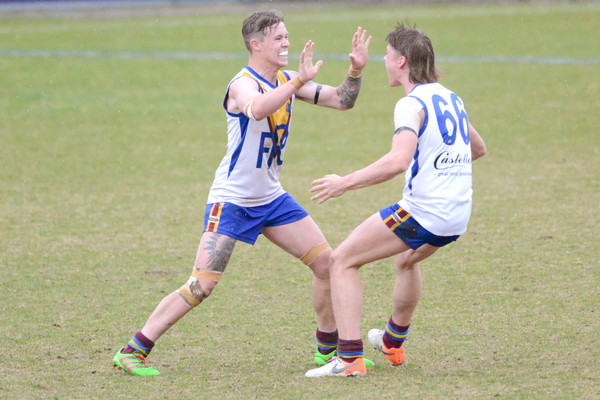 AFL Outer East will forge forward with its plans to get a 2020 season underway, with the league confirming it will proceed with a Saturday, 1 August start for senior football and netball.
After extensive consultation with the senior clubs, there is set to be one senior/reserves football division in 2020, with Premier, Division 1 and Division 2 not going ahead as per usual.
AFL Outer East has confirmed – after a club presidents meeting on Saturday in Kilsyth, as well as the club meeting on 23 June – that there are enough confirmed clubs to make up a single division despite a raft of clubs opting out of the season over the weekend over concerns of managing crowds, volunteer strain and community health.
In its 'Guiding Principles for a Return to Football And Netball' document previously sent to clubs, AFL Outer East stated that participation this season is voluntary, and clubs will not be penalised if they opt to sit out the season due to Covid-19, while it will also offer modified participation and club fee structures.
The league will announce which clubs will make up the division this Friday, 3 July, with the understanding that there is likely to be a mixture of clubs from across the competition competing this season.
The proposed season structure – which was announced back on 5 June – is unlikely to change, with a top-four, even home-and-away games, and a three-week finals series with neutral venues removed, but the league will publicly announce more on this on Friday, including providing fixtures once team submissions are entered.
Clubs that have already publicly announced they won't be fielding senior football teams in 2020 include: Beaconsfield, Doveton, Cranbourne, Kinglake and Gembrook Cockatoo, while the Mail understands other league powerhouses won't feature at senior level in 2020 and instead focus on junior sport.
AFL Outer East's commercial and operations manager Cam Hutchinson praised the clubs for how they've handled a difficult situation, and said that they will continue to work with clubs as they continue to launch towards a season start.
"It's been really positive – we had a meeting on Tuesday with our clubs, and we've spent the best part of the last four days communicating with the clubs and seeing where they were at, and each club has made a good, informed decision" he told the Mail.
"And they've all made an informed decision about whether they think they'll play or not – (on Saturday) we met with clubs interested in playing, and put a few options up, looked at seniors only with extended squads, looked at under-21s, but the group of clubs we've got together are confident they've got really good numbers to have seniors and reserves.
"All of the clubs have come together with their committee, players, coaches, and worked out what was best for their club which is great – we've made the decision to not hold on to the season, but we wanted the clubs to really drive that.
"But we wanted to listen, and we feel we've got a good outcome. We've done everything in a really united way, no one has broken away – it's been a really positive outcome for our competition."
Netball is also locked in for a season start on 1 August and won't be impacted by whichever way the senior football season pans out, with the structure for the 2020 campaign set to be confirmed once team submissions are entered to the league. Like senior footy, it is optional for netball teams to take part in the season.
In terms of the women's football and vets football competitions, both are locked in for a return, with the women's league set to start on 1 August, while the vets' start date will be confirmed after consultation with clubs.
Under-18s football – which will be played under a divisional model – as well as junior football and netball is locked in to begin on the weekend of 25 and 26 July.
Hutchinson said the position of AFL Outer East hasn't wavered throughout the entire process.
"Outer East's position the entire time has been that if the guidelines and the protocols from the government provide the opportunity to play, and we have a strong willingness to play, we'll continue to work towards playing until it isn't possible anymore," he said.
"As a region we have been proactive, constructive and positive and it is terrific that all clubs have come to considered and informed positions, that is best for them and their community.
"(And now) we're sitting here at the end of June with eight to ten clubs really keen to play, so we'll work towards that."
AFL Victoria and Netball Victoria crucially released their much-anticipated Return to Play protocols and Return to Community Netball Guidelines throughout the week, which don't mention any specific crowd limits – seen as the biggest factor when it comes to a season start – with attendance at community football matches "strictly compliant with government directions and restrictions", while spectators should be in groups of no more than 10 people in open, outdoor venues and must adhere to the 1.5 metre social distancing.
With a handful of clubs within AFL Outer East coming under current Covid-19 'hotspots' and a current spike of cases in the state, Hutchinson said that the league will continue to work hard with those clubs concerned who are set to compete this season despite the concerns around the impact it could have on game day.
"AFL Outer East is working with local councils regarding local Covid-19 'hotspots' and will continue to work diligently with those clubs who are impacted by these developments in their local area," he said.
"Moving forward we will monitor all information from AFL Victoria, Netball Victoria and government agencies and will assess at key junctures as we approach our start dates.
"We'll need some luck obviously over the next two weeks anyway – with this spike, they're doing a mass testing and we're confident they'll rein it back in.
"We continue to urge all Outer East participants to practice good hygiene and adhere to all government and AFL Victoria guidelines to help reduce the spread of Covid-19 in our community."