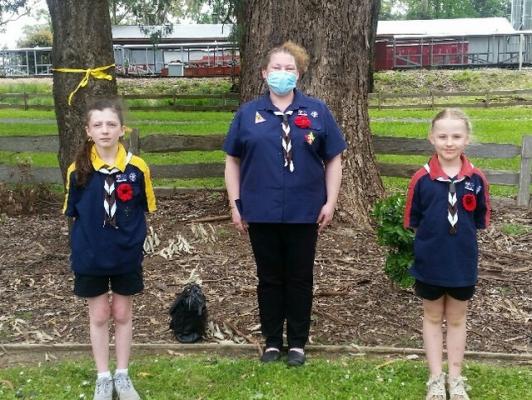 RSL's across the nation paused at 11am on Wednesday 11 November to commemorate Remembrance Day, marking the 102nd anniversary of the Armistice that ended the First World War, while paying respects to the Anzacs who sacrificed their lives fighting for their country.
Due to the coronavirus, eleventh hour services went ahead in a similar fashion to those on Anzac Day without the typical crowds of residents looking to pay their respects.
Emerald RSL president Peter Maloney said a private service of 10 people was held at Anzac Place, while many locals also paid their respects.
"Many members of the club and the general public were aware that the private service was being held at Anzac Place instead of town centre as in previous years and decided themselves to visit Anzac Place around 11am," he said.
"This resulted in approximately 60 people visiting Anzac Place to pay their respects and lay a poppy at the memorial.
"The RSL requested everyone 'to remember to remember,' and this is what we did.
"We could not even sell poppies this year which was most disappointing. However, we did manage to 'sow' some poppies around Emerald visible to avenues of traffic. And the RSL itself was adorned with poppies."
This year, Emerald RSL also installed an additional flag at Anzac Place, allowing the club to now fly both the Australian and New Zealand flags.
Warburton RSL President Wayne Morgan said a service in Warburton would usually attract anywhere from 20-50 people, a big difference compared to the three RSL executive members, who were on hand to conduct the service.
"There will be two on the flags and then myself on the microphone. It's not the end of the world, at least we can conduct a service, that's the main thing," he said, prior to the service.
Mr Morgan said he is hopeful of having a 'normal' Anzac Day service, come April next year.
"I'm looking forward to having the school kids involved in Anzac Day again. I think things will be back to normal once again by then, but you never know."
Afghanistan War veteran Gordon Willcock (pictured) brought his son, Benjamin along to the service in Healesville.
"I think they (Healesville RSL) did a good job under difficult circumstances," Mr Willcock said.
"People weren't allowed in the car park, so things were directed to those inside the RSL. Quite frankly, I don't think it matters all that much, the point is to stop and mark the occasion wherever you are, to remember and pay respect to those caught up in World War I and World War II and maybe even to spare a thought for the present and where we're currently headed."
Mr Willcock spoke of the importance of being able to pay his respects at the Healesville RSL service.
"I think it is important that we honour these traditions, it doesn't mean we have to mythologise these wars, but it is good to remember them and think about what it meant then and what we should learn from them today. I want my son to understand this and be able to think about it for himself."