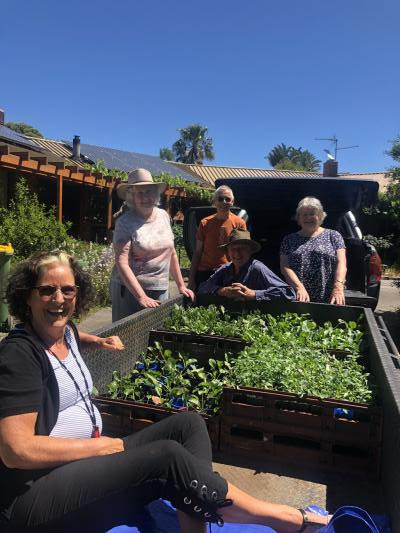 The devastating images of Mallacoota locals desperately fleeing their town by sea left a hole in the hearts of many local communities, desperate to help in any way possible.
We all saw communities and groups across the state rally together – sending hay, water, tools and generous donations of money.
Keen gardeners from Emerald University of the Third Age (U3A) decided to help out in a different way, spending lockdown potting seedlings and off-cuts and making plans to deliver plants to Mallacoota once restrictions allowed.
These plans finally eventuated on Thursday 26 November, when two trailer loads of plants were delivered by Emerald U3A members to Mallacoota and District U3A group. The plants will be distributed to Mallacoota locals so they can re-establish their gardens with the vegetables, annuals, perennials, succulents, shrubs and trees grown by Emerald U3A members.
Organiser of the U3A gardening initiative, Edith Colley, said it was an nice feeling to be helping out in this way.
"I think we've got a fellow feeling because we live in a fire-prone area and it could be us next time," Mrs Colley said.
"Apparently they're just starting to get their homes rebuilt and are just starting to think gardens now. Restarting a garden is so expensive," Mrs Colley said.
The group took clippings, with permission, from Emerald's Nobelius Garden and potted them to grow the plants, allowing a little piece of Emerald to live on in Mallacoota.
Emerald U3A member Jeanette Wenzel told the Star Mail the group wanted to help and the plants were something they could easily do.
"I think a lot of people have forgotten the fires and the damage that they caused because everyone is just talking about Covid," Mrs Wenzel said.
Mrs Colley personally delivered the plants, with U3A members Corry and Guido Pynaker also driving a car and trailer load down.
"I just think it's absolutely wonderful that you can actually help a community. I'm happy to volunteer to do that," Mrs Pynaker said.